Imagine receiving a bill for thousands of dollars on a credit card you never authorized. Or patiently waiting for your tax refund only for it never to arrive. Or discovering that you're registered as a wanted criminal in police databases. Sounds crazy, but it happens to millions of Americans every year.
In fact, the FTC's Consumer Sentinel Network recorded over 5.7 million complaints in 2021, totaling more than $5.8 billion in losses. Of those reports, 1,434,676 were identity theft cases. In a separate survey conducted by Javelin Strategy & Research, as many as 42 million U.S. consumers were affected by identity fraud scams, resulting in $52 billion lost.
Fortunately, it's not all bleak. By taking proactive measures, you can ensure your personal information is safe while protecting yourself against identity theft.
In this post, we share seven of the best identity theft protection services for 2023 so that you never have to worry about someone else enjoying a shopping spree on your dime or taking out an auto loan in your name.
What Is the Best Identity Theft Protection Service?
IdentityForce by TransUnion: Offers solid identity theft monitoring tools and child protection options.
Norton LifeLock: Combines excellent identity theft monitoring tools with trusted antivirus software.
Aura: Provides a great all-in-one digital protection solution with some of the best monitoring services.
ID Watchdog from Equifax: Allows customized identity monitoring and has top-notch resolution services.
IDShield: Offers unlimited recovery assistance and simple plans.
Experian IdentityWorks: Bundles comprehensive ID theft protection and credit monitoring with credit improvement tools.
PrivacyGuard: Allows some of the greatest flexibility with credit, identity, and total protection plans.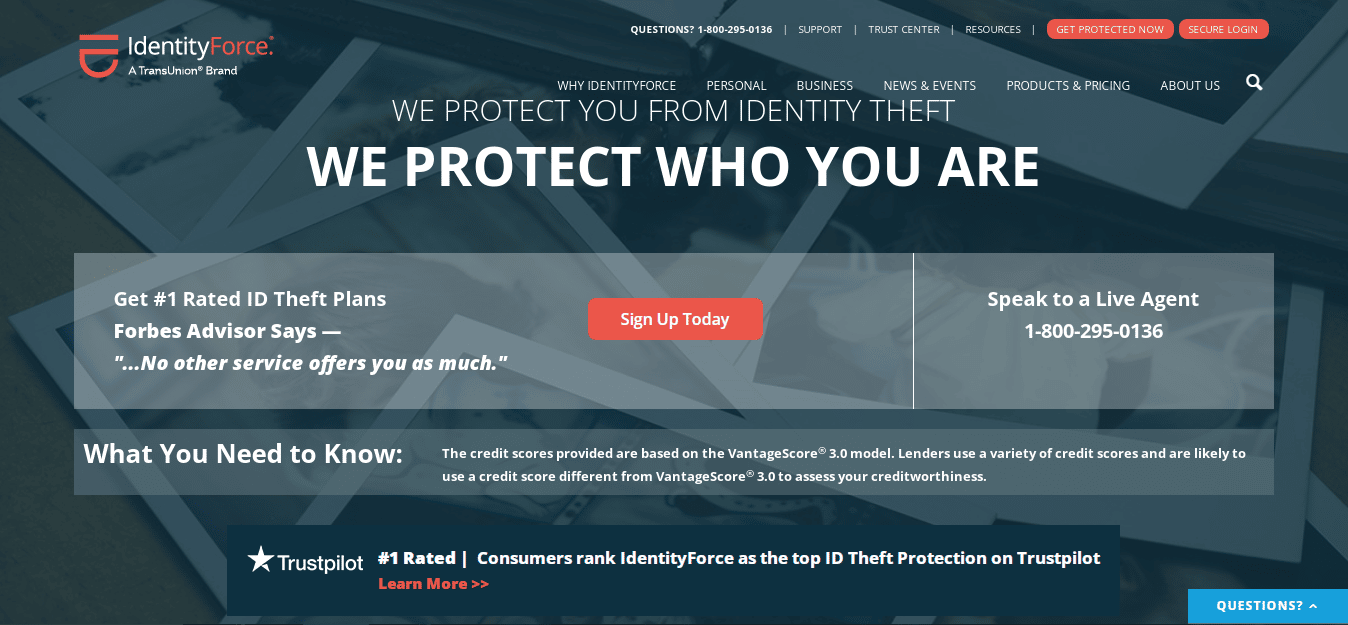 Overview
TransUnion is one of three major credit bureaus in the U.S., so it's no surprise that they offer one of the most comprehensive identity theft services available in the industry today under their IdentityForce brand. The company has won multiple awards, and their services often take top spot on customer review sites like Trustpilot.
Suitable for individuals, families, and organizations, their suite of tools combines advanced technology, real-time alerts, identity recovery, and 24/7 support to protect your financial well-being and reputation.
Highlights
Get continuous and robust monitoring of your identity, privacy, and credit, including advanced fraud, change of address, court record, credit report, dark web, payday loan, sex offender, and social media identity monitoring so that you're covered from all angles.
Enjoy medical fraud ID protection and monitoring to prevent anyone from using your medical benefits illicitly.
Receive rapid notifications on all devices, ensuring you have an early warning system when your personal information is at risk and that you can act before any damage is done.
Gain total control with instant access to credit reports, credit freeze and fraud assistance, two-factor authentication, a password manager, an identity vault and secure storage, mobile solutions, a VPN (mobile only), and more. These features let you easily and effectively safeguard your keystrokes, PIN numbers, and card information.
Explore and experiment with different financial scenarios that impact your credit to ensure you make the best decisions.
Access 24/7 recovery services where Certified Protection Experts will make calls, complete paperwork, and manage all details of restoring your identity and claiming from insurance.
Get peace of mind with a service that's backed by a nationwide $1 million identity theft insurance policy.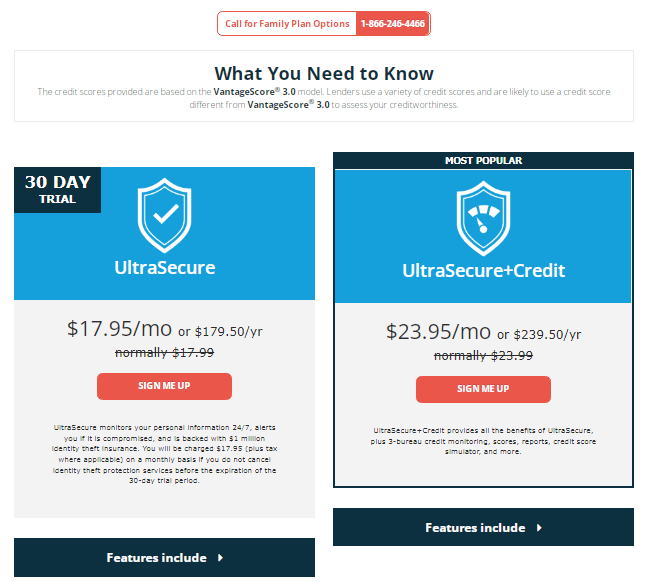 Pricing
IdentityForce offers two basic pricing plans: UltraSecure and UltraSecure+Credit.
The UltraSecure plan gives you all the standard tools you need to protect your personal information, including comprehensive 24/7 monitoring, alerts, and identity theft insurance. This service is currently available for $17.95 per month or $179.50 per year.
The UltraSecure+Credit plan provides all the benefits of UltraSecure, plus credit monitoring of all three credit bureaus, credit scores, credit reports, credit freeze, a credit score tracker, a credit score simulator, and fraud assistance. For this upgraded package, you'll currently pay $23.95 per month or $239.50 annually.
However, IdentityForce also offers ChildWatch for families wanting to add child coverage, as well as additional solutions for businesses wanting to offer the service to workers as an employee benefit.
Wrap Up
Whether you want to protect your whole family or your business and its employees, you'll find all the tools you'll need with IdentityForce. Although it's a little more costly than comparable providers, it's an excellent choice overall. Consider trying their 30-day trial period to give IdentityForce a spin without the risk.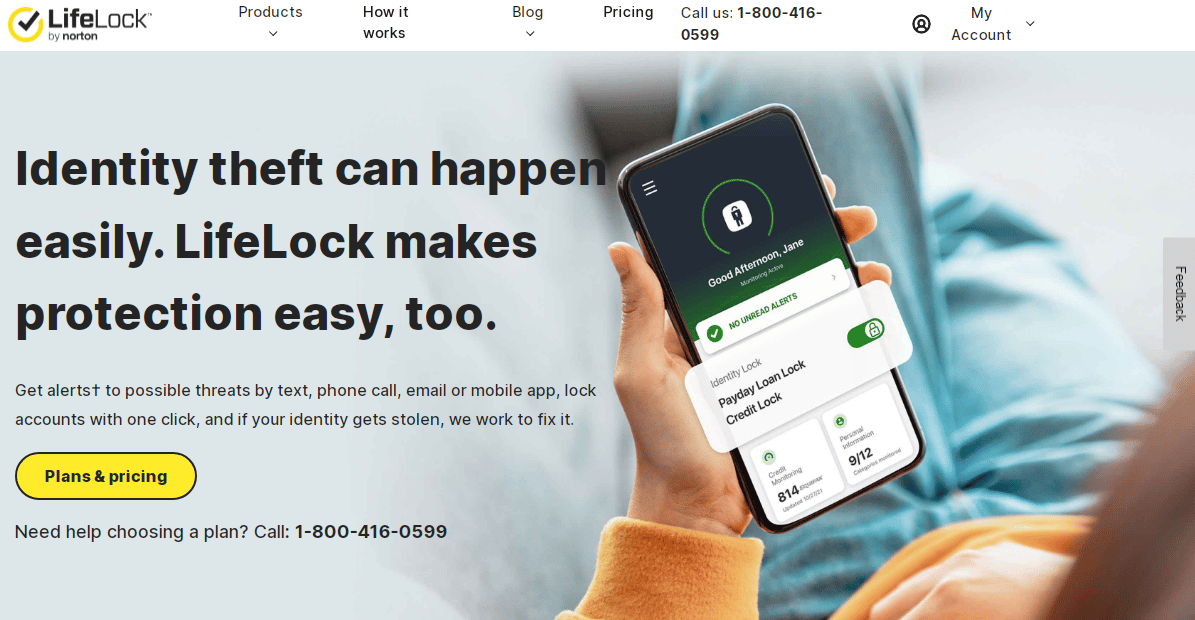 Overview
Norton is one of the biggest and most popular players in cybersecurity today, but the company doesn't just provide award-winning antivirus software. It also offers some of the best identity theft protection tools on the market right now, which is why it makes our list and many others.
The service runs from very basic identity theft tools like credit bureau monitoring, identity and Social Security Number alerts, stolen wallet protection, and dark web monitoring to more complex monitoring of home titles, investment accounts, sex offender databases, social media, and more. Whether you're an individual looking for identity theft protection or you want to protect your whole family, there's an affordable option for you.
Highlights
Get the choice of adding Norton 360 to your service and enjoy the benefits of bundled identity theft monitoring with antivirus protection in one place and at a better price.
Conveniently get alerts on all your devices and easily lock accounts with one click for hassle-free ID theft protection.
Safeguard your personal information with privacy protection tools like a VPN, password manager, and more.
Gain peace of mind with different levels of financial reimbursement based on your pricing tier and up to $1 million coverage for lawyers and other identity theft experts to resolve your case.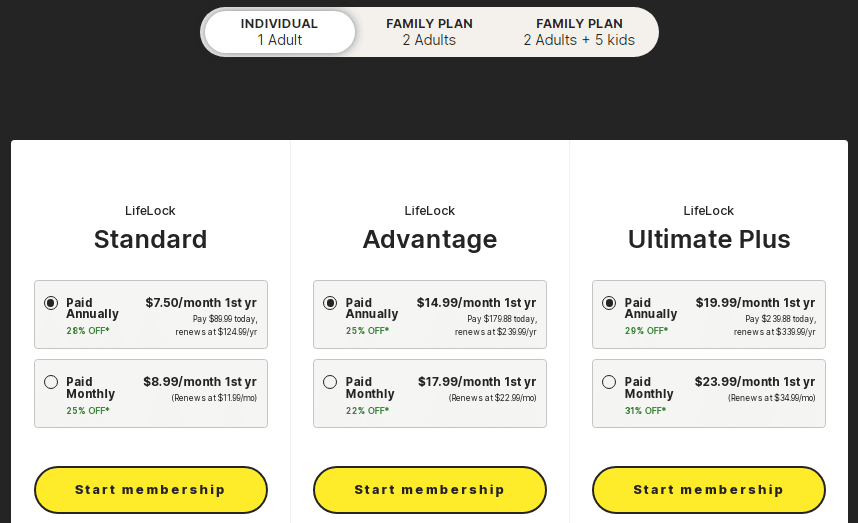 Pricing
Norton's LifeLock is available in three pricing tiers:
Standard: This includes a basic set of tools for identity and Social Security Number alters, as well as one-bureau credit monitoring, $1 million for lawyers and experts, and $25,000 stolen funds reimbursement. The normal price is $11.99 per month or $124.99 per year, but it's currently on special for $8.99 a month or $89.99 annually.
Advantage: With this package, you'll get everything in the standard package plus $100,000 stolen funds reimbursement, TransUnion Credit File Lock and Payday Loan Lock, credit reports and scores, alerts on crime in your name, phone takeover monitoring, and fictitious identity monitoring. While the normal monthly fee is $22.99 or $239.99 a year, the current discounted price is $17.99 per month or $179.88 yearly.
Ultimate Plus: In addition to everything in the Norton LifeLock Advantage package, you'll get retirement and investment account alerts, home title monitoring, and social media monitoring. You'll also get annual credit reports from all three bureaus and have the stolen funds reimbursement bumped up to $1 million. Normally, you'd pay $34.99 per month or $339.99 per year for this, but the current deal puts the monthly rate at $23.99 and the annual rate at $239.88.
Wrap Up
Although IdentityForce offers a credit simulator where LifeLock doesn't, LifeLock is the way to go if multi-layered real-time virus threat protection for all of your devices is a priority. In addition to free trial periods based on which services you select, LifeLock often runs great discounts that can make trying it out cheaper, so give it a spin today!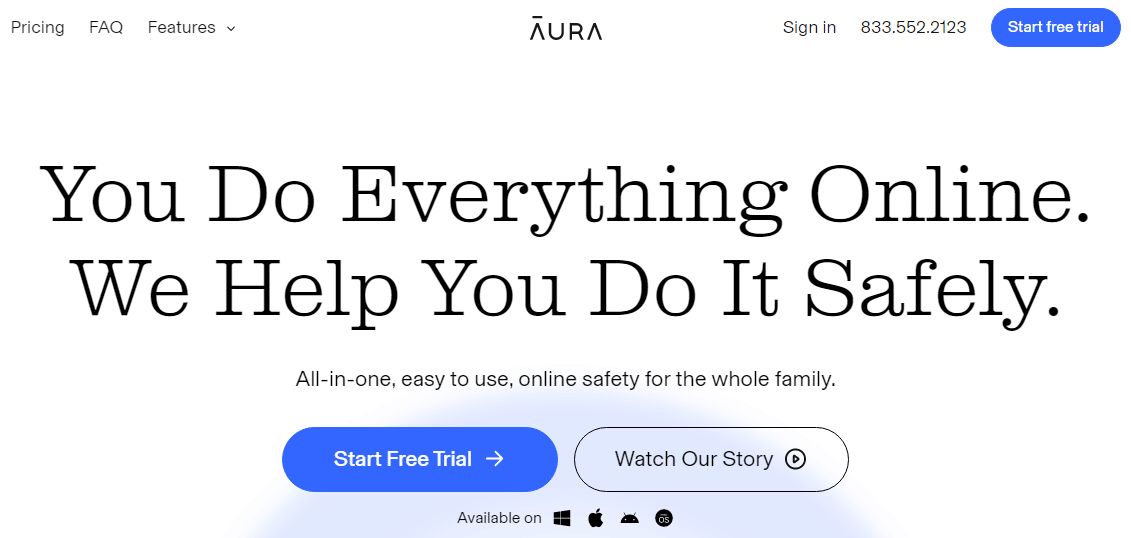 Overview
Evolving from five privacy and security companies with decades of experience, Aura has quickly earned its reputation as a leader in identity theft protection. Offering all the technical features of the best identity theft prevention tools, the service also includes a VPN to keep your browsing safe and private, antivirus software to act against invasive malware, a password manager, Wi-Fi security, and safe browsing features. With Aura, you don't just get solid ID theft protection. You also get complete network and device protection.
Highlights
Benefit from an extensive suite of monitoring tools, including Social Security Number and personal information monitoring, identity verification monitoring, credit monitoring, online account monitoring, bank and transaction monitoring, and retirement and investment account monitoring.
Get access to services against junk mail and spam calls, as well as people search site removal. This includes requesting the removal of your information from data brokers.
Keep track of your credit with monthly credit scores and annual reports from all three credit bureaus.
Tap into features like credit locks, financial fraud protection, lost wallet remediation, and more so that you can act fast to secure the best outcomes.
Safeguard yourself with a $1 million identity theft protection policy.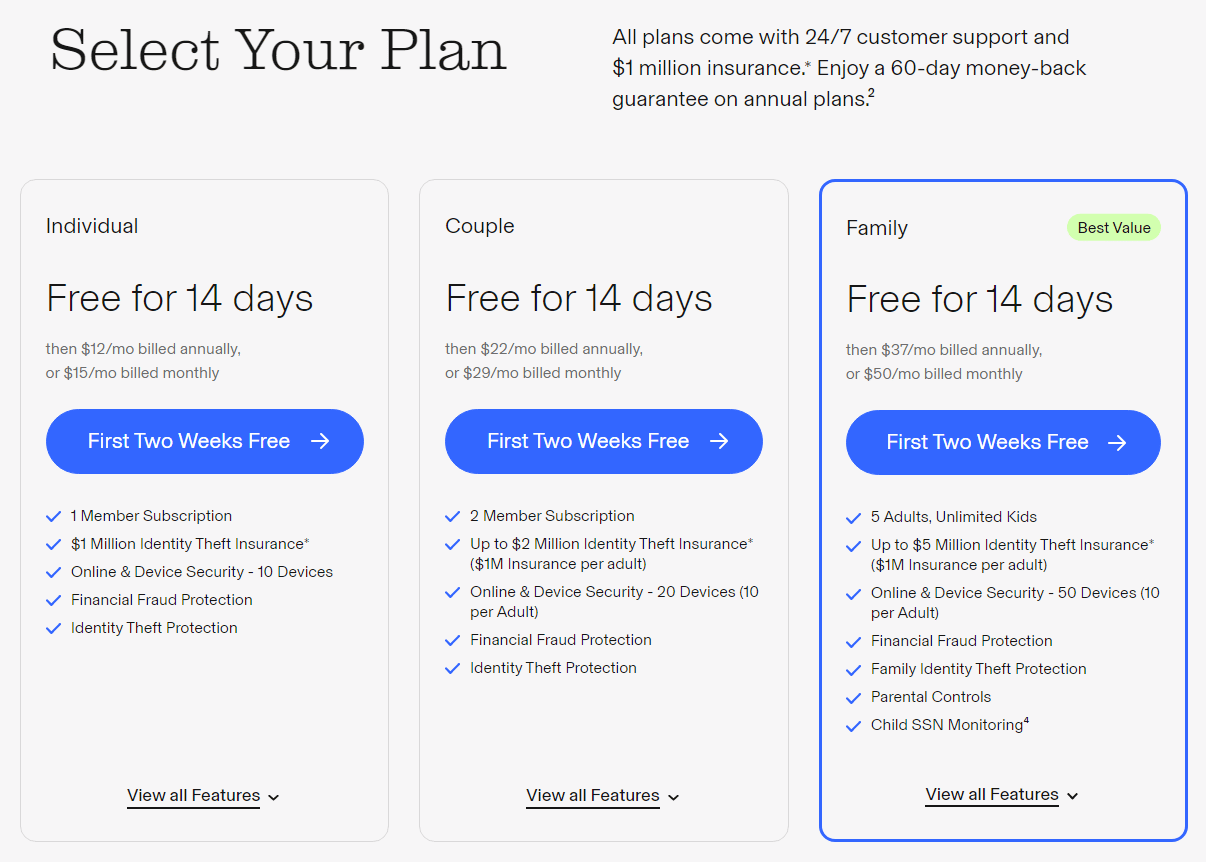 Pricing
Aura offers three pricing options, including Individual, Couple, and Family packages.
The Individual package is billed at $15 per month or $144 annually (a $36 discount). This includes $1 million in identity theft insurance and covers 10 devices.
With the Couples package, the insurance policy is $2 million and covers 20 devices. The monthly fee is $29, while the annual fee is $264 (an $84 discount).
Their Family package runs $50 a month or $444 (a $156 discount) and covers five adults, unlimited children, and up to 50 devices. The insurance bumps up to $5 million (i.e., $1 million per adult).
Wrap Up
One of Aura's strengths is that it draws information from a wealth of sources, so if you want to ensure that you catch instances of criminals hijacking your data while keeping track of your financial well-being, you can't go wrong with this product. Start with their risk-free 14-day trial to take it for a test run and see how easy Aura makes it to protect your money and reputation.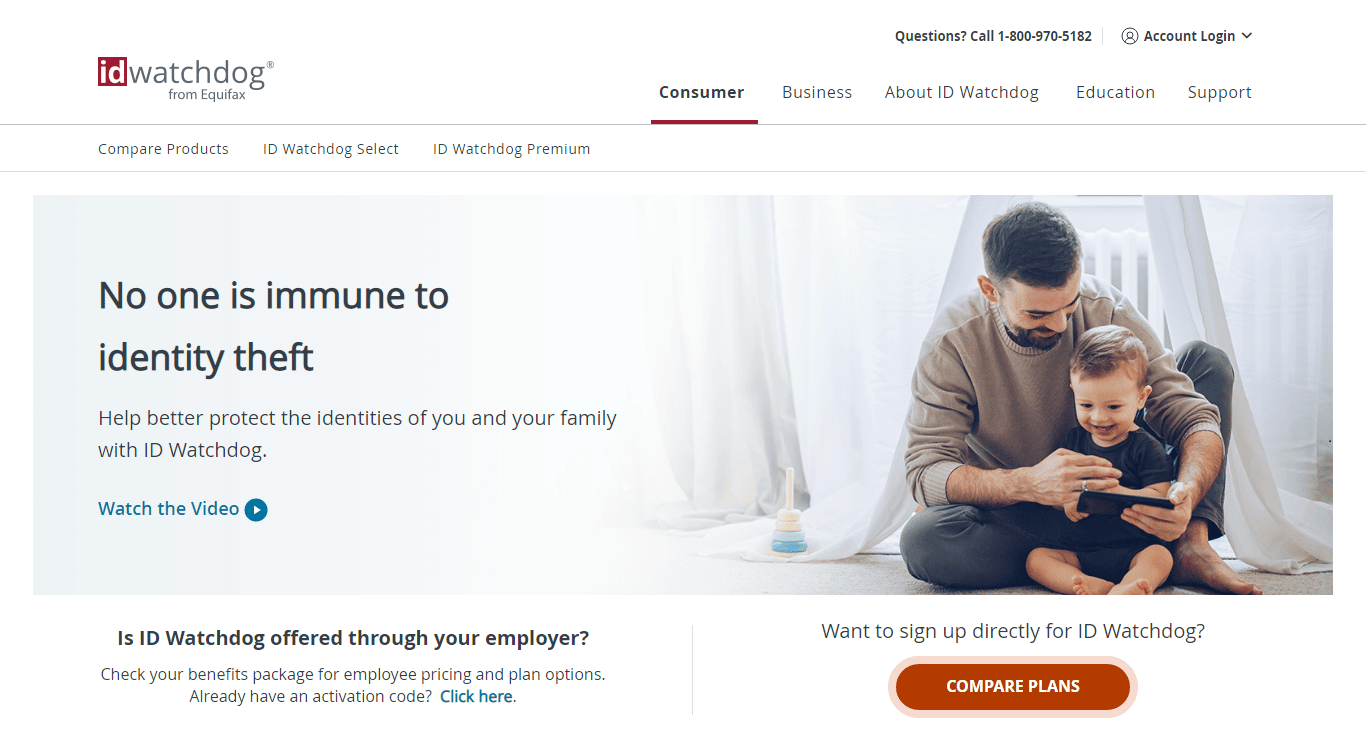 Overview
ID Watchdog is a top-tier identity theft protection service that comes courtesy of Equifax—another of the three big credit bureaus in the U.S. The company's advanced software scours data points across a plethora of sources, including transaction records, public records, social media, and more, to identify potential instances of identity fraud.
ID Watchdog earns rave reviews from consumers and has been recognized by the Consumer Federation of America as one of the best in the identity theft protection business.
Highlights
Keep your information safe with advanced software that tracks billions of data points and provides real-time alerts about suspicious activities via email or SMS. This includes non-credit monitoring.
Enjoy greater protection and control with credit lock features that prevent criminals from opening new accounts in your name.
Get fully managed identity restoration with ID Watchdog's certified resolution specialists who will work your case until your identity is restored.
Access additional features like a mobile app, 24/7 support, lost wallet assistance, data breach alerts, and more.
Rest assured that any losses will be covered by their $1 million identity theft insurance policy.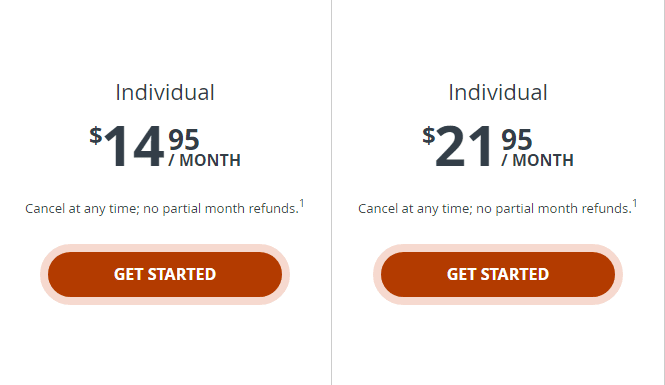 Pricing
ID Watchdog offers two pricing tiers that are available to both individuals and families.
For individuals, the Select package is $14.95 monthly or $150 annually, while the Premium package is $21.95 per month or $220 annually.
For families, the Select package rate is $23.95 per month and $240 per year. The Premium package is $34.95 monthly and $350 annually.
Wrap Up
If you want award-winning, full-service identity theft protection software backed by a credit-reporting agency, give ID Watchdog a try. Although there's no free trial, you can cancel your subscription at any time, so the risk is minimal.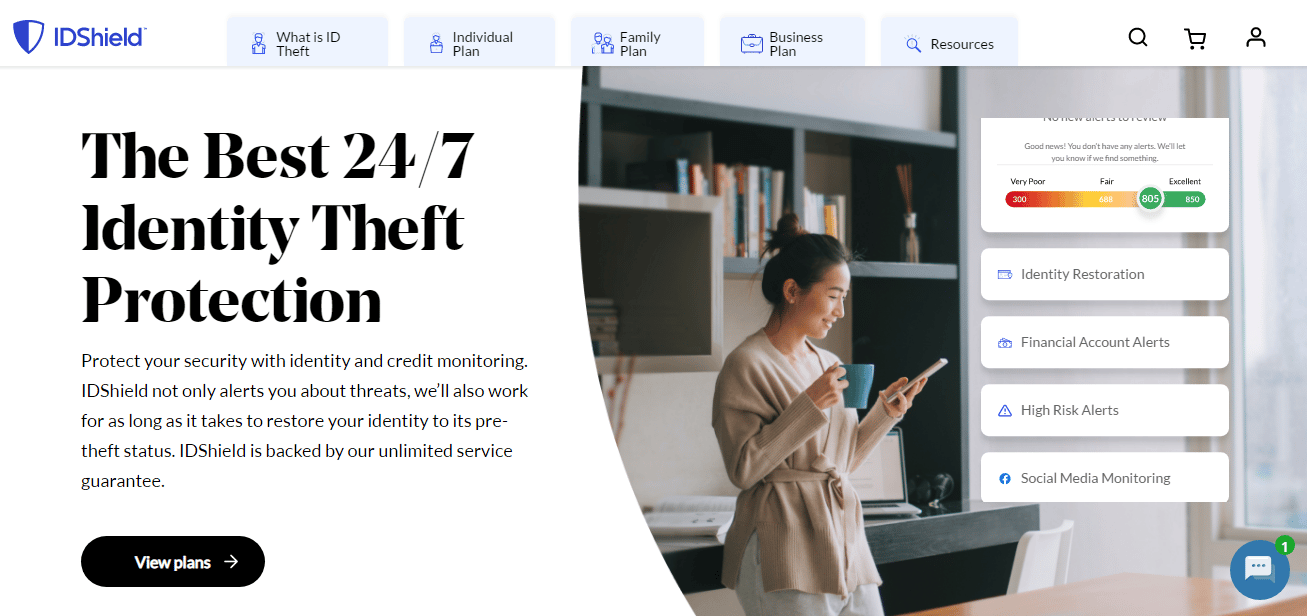 Overview
A product of Pre-Paid Legal Services, Inc., IDShield offers extensive identity theft coverage for individuals, families, and organizations. Besides standard identity protection, financial protection, and monitoring services, the company provides social media monitoring, reputation management, and a variety of cybersecurity and device protection tools.
With IDShield, you not only get a full suite of identity theft protection features. You also get unlimited consultations, which is what truly sets this service apart from many of its competitors.
Highlights
Effectively monitor your online presence and receive alerts the moment there's unusual activity in your name so that you can take action immediately.
Enjoy features like 24/7 emergency assistance, lost wallet assistance, antivirus software, VPN service, password manager, and more.
Gain peace of mind with access to licensed private investigators to help in the restoration of your identity pre-theft. This is backed by an unlimited service guarantee.
Get $1 million in fraud protection to cover lawyers, experts, and reimbursements for losses.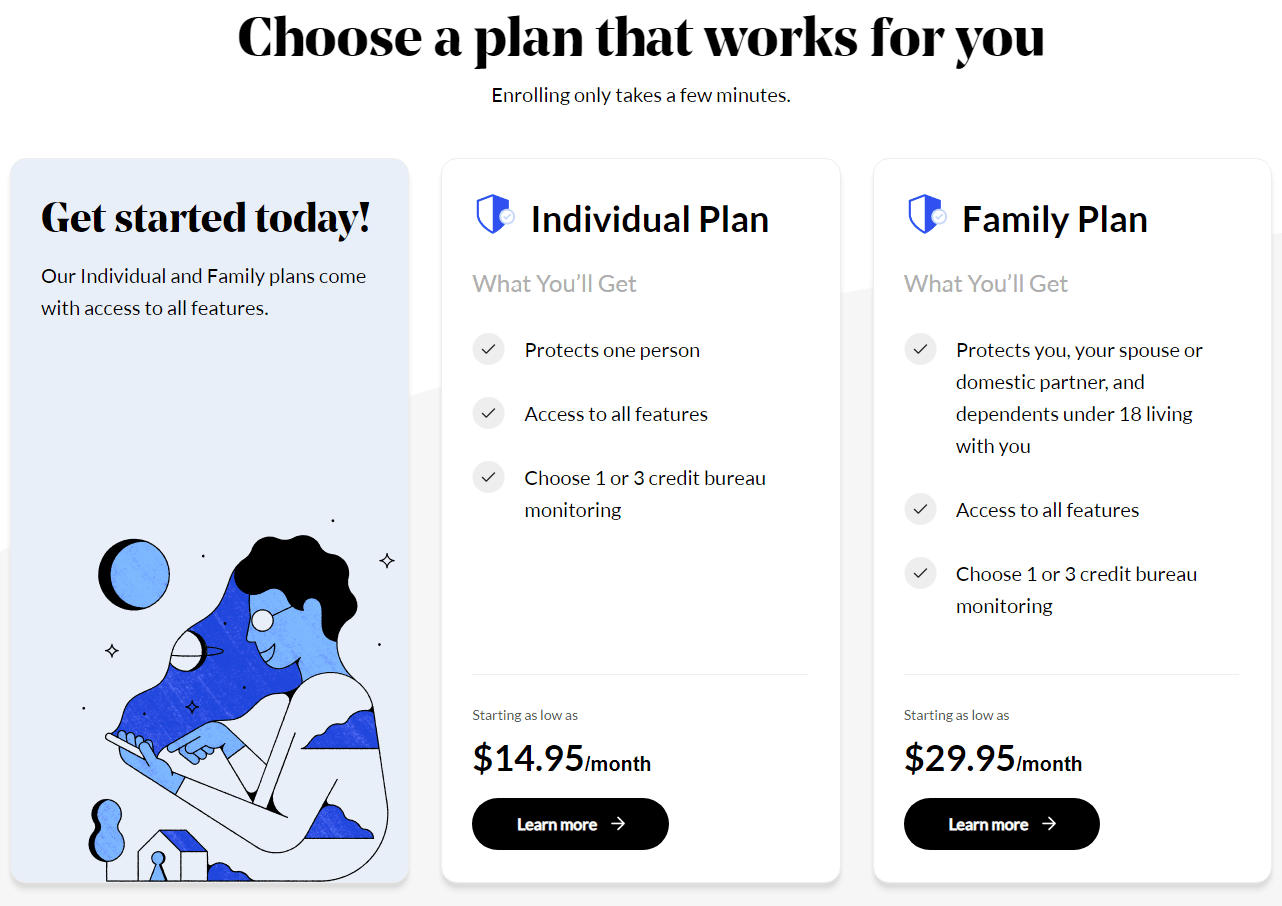 Pricing
IDShield offers three types of plans for each of its consumer markets: individuals, families, and businesses.
The Individual Plan costs $14.95 per month for monitoring one credit bureau and $19.95 per month for monitoring three, while the Family Plan is $29.95 per month for monitoring one credit bureau and $34.95 per month for monitoring three. Both plans offer the same features.
For businesses, IDShield offers IDShield for Business Essentials, which protects up to 6 IP addresses or URLs and runs $79.95 per month. However, you can upgrade your package to IDShield for Business Plus, which costs $149 a month and covers 12 IP addresses or URLs.
Wrap Up
IDShield is a reliable company with a solid identity theft protection product. Its service is comparable to IdentityForce at a slightly lower price. However, it lacks certain non-essential features like junk mail removal. If these features aren't important to you, give IDShield a try today.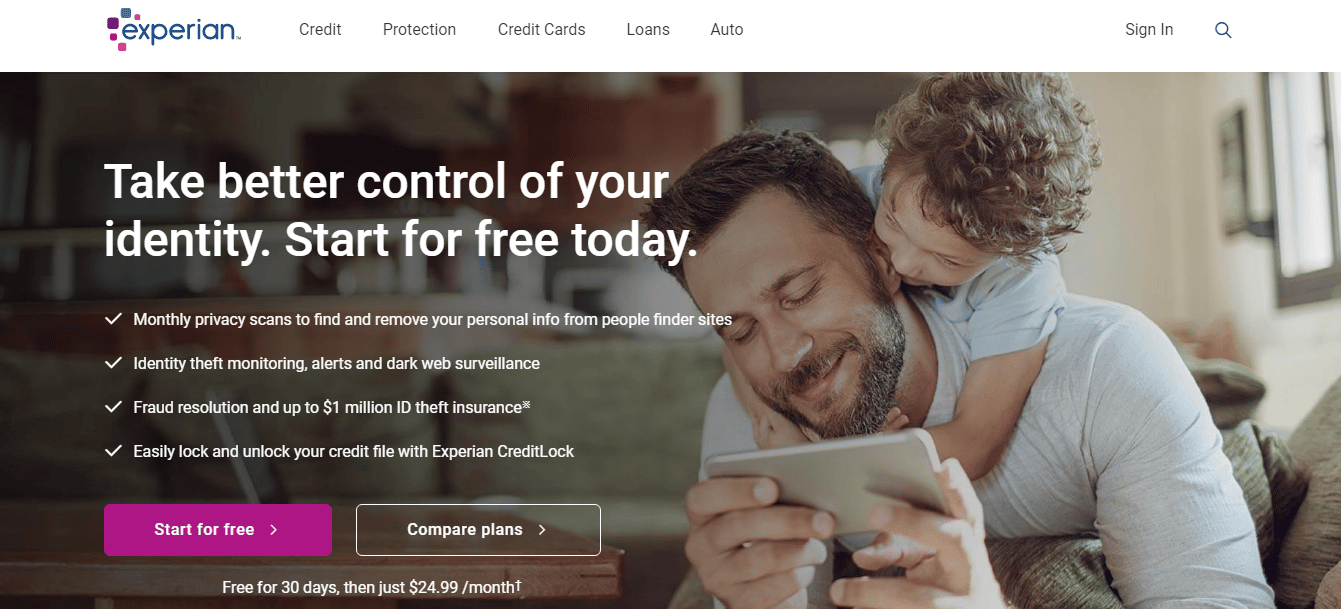 Overview
Grabbing a spot on our list is IdentityWorks, an identity theft protection service from Experian—another of the big three credit bureaus in the U.S. The service offers a reliable set of identity theft monitoring tools to protect consumers against violations of personal information, including credit monitoring, dark web monitoring, and social security monitoring.
However, what makes IdentityWorks a no-brainer is its broad range of additional services—many of them for free. This includes free credit tracking, monthly credit reports, and more. Armed with modern technology and insider knowledge, IdentityWorks is truly a force to be reckoned with.
Highlights
Get 360° monitoring and alerts with daily scanning of 600,00+ web pages, 3-bureau credit monitoring, and Social Security Number monitoring.
Receive alerts for court records, sex offender lists, payday loans, non-credit loans, change of address, and financial account activity so that you catch every instance of potential fraud.
Benefit from credit improvement tools from one of the country's leading credit bureaus while simultaneously protecting your information.
Ensure you're fully covered financially with additional features like lost wallet assistance and $1 million in identity theft insurance.
Easily lock and unlock your credit profile to protect against unauthorized access.
Enjoy support from fraud resolution experts who will work tirelessly to restore your identity.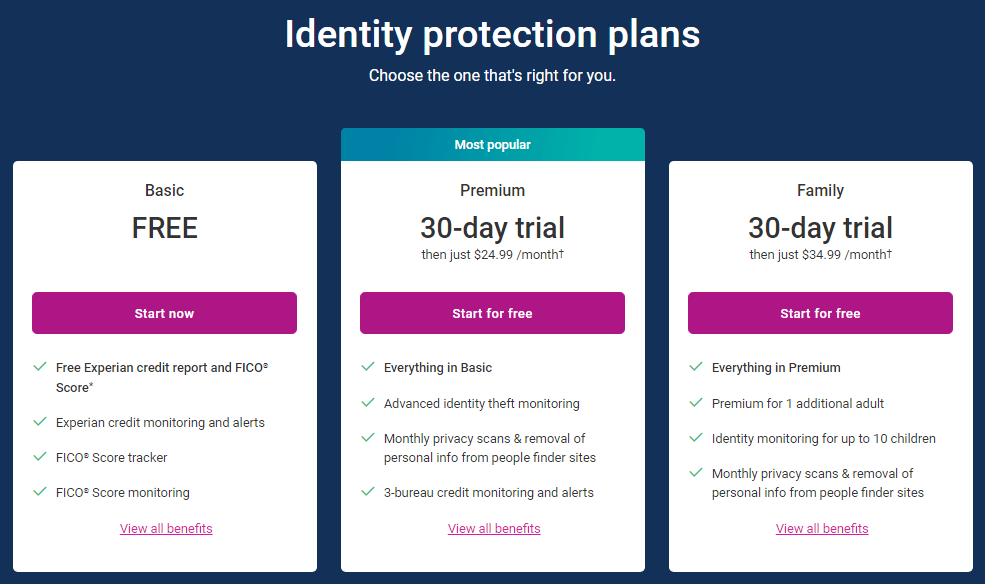 Pricing
IdentityWorks offers three simple pricing plans.
Basic: Completely free, this tier level offers some great tools like dark web surveillance, Experian credit monitoring, FICO Score monitoring, personal privacy scanning, and more.
Premium: This fully-loaded tier comes with a complete suite of identity theft features and up to $1 million in identity theft insurance coverage for just $24.99 a month.
Family: Offering everything in the Premium package for one additional adult and up to 10 children, the Family plan only costs $34.99 per month (just $10 bucks more!).
Wrap Up
Since IdentityWorks is a product of a major credit bureau, it stands to reason that it was designed to be one of the most comprehensive identity theft tools for consumers. And with a 30-day free trial available, you can put its power to the test and try it risk-free.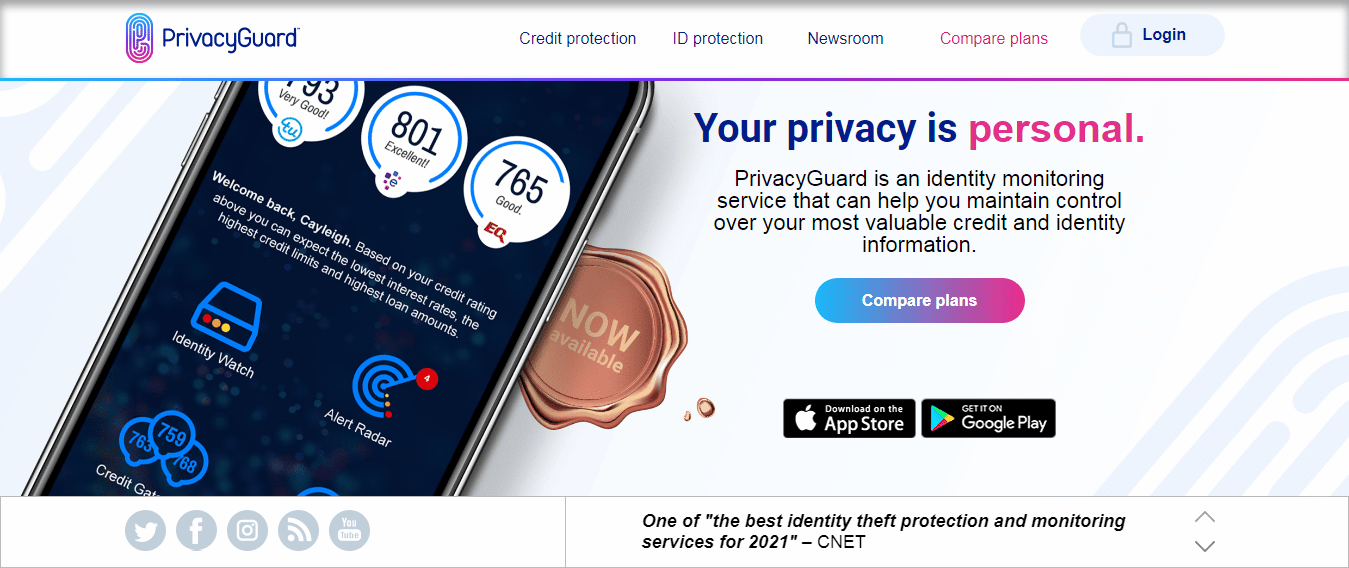 Overview
With Credit Protection, Identity Protection, and Total Protection options, PrivacyGuard is one of the most flexible options on our list.
Besides being an easy-to-use and overall reliable solution in the identity theft protection game, the service combines both basic and advanced ID theft protection with outstanding customer service—one of the reasons it comes so highly recommended by many of the big players in the financial industry today.
Highlights
Get Social Security Number monitoring, dark web monitoring, bank account monitoring, credit card monitoring, personal document monitoring, and public records monitoring all under one roof.
Access online fraud assistance services through their award-winning resolution team so that you don't have to fight identity theft or try to restore your good name alone.
Make use of helpful tools like PrivacyGuard's credit score simulator and financial calculator suite to understand how your decisions will affect your financial health.
Enjoy peace of mind knowing you're covered by up to $1 million in identity theft insurance, stolen wallet protection, and medical records reimbursement.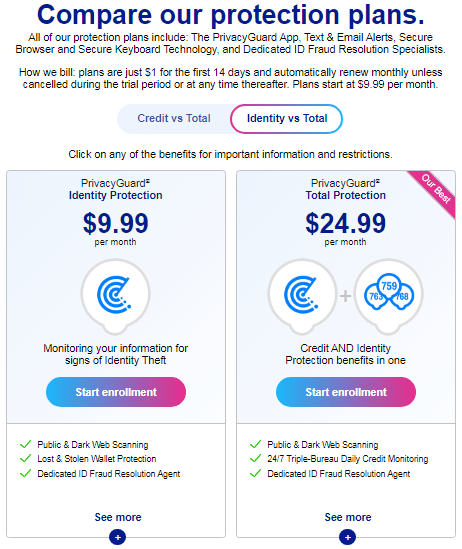 Pricing
As mentioned, PrivacyGuard is one of the most flexible solutions when it comes to pricing plans. The company separates its tools into three packages.
Identity Protection: This basic package runs $9.99 per month and includes preventative benefits like ID verification monitoring, Social Security Number tracking, and dark web surveillance. It also includes $1 million in ID theft insurance coverage and fraud resolution support.
Credit Protection: Focusing more on the financial implications of ID theft, this plan is $19.99 per month and includes daily monitoring of credit reports and more. However, it excludes features from the ID protection plan.
Total Protection: Combining the best of both worlds at a discounted price, this plan offers all the tools and features of Identity Protection and Credit Protection for just $24.99 per month.
Wrap Up
Although PrivacyGuard lacks certain features like social media monitoring, it offers enough for you to feel confident your personal information is being protected. Throw in credit protection features and you can sleep soundly knowing you're covered from every angle. While there's no free trial, you only pay $1 for the first 14 days—an absolute bargain!
What Is Identity Theft?
Identity theft is a crime involving the use of a consumer's personal information by another individual to achieve illicit financial gain or commit some other type of fraud. Criminals will usually use information such as a bank account number, Social Security Number, or other personal details like names and addresses to accomplish their goal.
Activities often include opening accounts, making purchases, obtaining loans or lines of credit in the consumer's name, filing fraudulent tax returns on the consumer's behalf, diverting payments meant for the consumer, and even taking ownership of property the consumer owns by altering deeds and titles.
On average, identity theft victims lose around $500 per incident. However, losses can be far more severe and almost impossible to recoup—even in small amounts.
Sadly, financial losses aren't the only consequence. Identity theft can destroy credit scores, retirement accounts, college funds, medical records, reputations, and more. It can take a massive amount of effort and time to undo the damage—sometimes even years.
While it may not seem like a silver lining, more often than not, identity theft tends to be a crime of opportunity rather than a targeted attack. Therefore, you can do several things to minimize your risk and make yourself less of a target.
Besides tracking what bills you owe and when they're due, reviewing your bills for unauthorized charges, checking your bank account and credit card statements, and evaluating your credit reports for accounts you don't recognize, you should sign up for one of the best identity theft protection services mentioned above.
How To Know If Someone Stole Your Identity
With our increasingly modern and connected lives, it can be difficult to keep track of every transaction and every account, especially if you don't regularly review your statements. However, there are certain activities that are a dead giveaway you may be a victim of identity theft.
You have unexplained withdrawals from your bank account.
There are unfamiliar transactions on your credit card statement.
You're receiving calls about unfamiliar bills or debts.
Some of your mail is missing.
The IRS says they already received a tax return in your name.
Your medical records include false information.
Your credit scores show baffling changes (typically drastic drops even though you're doing everything right and paying your bills on time).
Your credit report contains information about accounts you don't recognize.
The good news is that the time it takes to detect identity theft is shortening thanks to identity theft protection services and tools. In fact, according to a 2016 report by the IRTC, it took an average of three months for identity theft victims to recognize that anything was wrong. Today, 21% of complainants detect unauthorized activity within 24 hours, while 16% discover an identity theft crime has occurred just one week after the fact.
Types of Identity Theft
When most people think about identity theft, they tend to associate it with financial fraud. Although money is a huge motivator for identity thieves, these criminals can also use your name, Social Security Number, and other financial information for reasons beyond trips to the mall. And if you thought poor credit or no credit will save you from being a victim, think again.
Here are the most common types of identity theft to watch out for today:
Financial identity theft: Perhaps the most common type of ID theft, financial fraud is when someone uses your information to buy goods and services in your name or on your bank cards. The expense may be as small as gassing up their Mitsubishi Mirage (though that can be quite a significant amount these days) to buying a home or even military-grade weapons. It's for this reason most insurance for identity theft covers up to $1 million in losses.
Criminal identity theft: Essentially an ID thief's "get out of jail free" card, this type of crime happens when someone uses your credentials to avoid arrest. This most often happens during traffic stops. Instead of a harsher penalty, they receive a ticket in your name—one that they'll never pay. This can put you at risk of false incarceration if you're ever pulled over for a traffic violation since you'll be noted as a criminal in police databases. Poof, there goes your squeaky clean record, which can have a tremendously negative impact on other areas of your life where background checks may be involved.
Medical identity theft: With this type of ID theft, another person obtains medicines or other healthcare services using your data. Besides potentially receiving a jaw-dropping bill for someone's hernia or shoulder surgery, another related problem is that it can raise your insurance premiums if the criminal's medical history is intertwined with your records. It may even create issues with your own healthcare treatment. Therefore, carefully reviewing your healthcare statements can go a long way to ensuring you don't get hit with unwanted medical bills or other errors.
Elderly identity theft: Seniors tend to be soft targets, especially for financial and medical identity theft. Statistically, this demographic is less likely to track and review their accounts for fraud. They're also more easily persuaded by fraudulent websites and emails used in phishing scams.
Child identity theft: Another group of the most vulnerable to cases of identity theft in our society is children. One of the main reasons kids make easy targets for this type of fraud is because the crime often goes undetected for years, with many only discovering a problem when they apply for credit, go for a job interview, or get pulled over for the first time. Identity thieves will most often use a child's Social Security Number to abuse credit, obtain payday loans, or even get a driver's license. Fortunately, many identity theft protection services now offer solutions for families with little ones. While these services won't prevent the crime, they can help stop the damage in its tracks.
Cloning: This type of identity theft is when someone lives their daily life pretending to be someone else. In many cases, it's because the individual has a criminal record, poor credit, or an eviction attached to their name. It's also prevalent in immigration fraud cases where undocumented individuals try to attain employment or housing. One form of identity cloning that's on the rise involves the use of social media accounts. Since people make their information and images so readily available on sites like Facebook and Instagram, it has never been easier to duplicate an account and use it for nefarious reasons, such as catfishing or scamming people out of their hard-earned cash.
Tax identity theft: A common practice for identity thieves is to divert tax refunds meant for other people. And believe it or not, you don't even need to be employed. These criminals will submit a fake income using your name and Social Security Number and then change your listed address with the IRS to receive the reimbursement. That's why it's so important to request an IRS tax PIN to safeguard your account, as well as have an identity theft service monitoring your information for a change of address.
Employment identity theft: If someone isn't legally eligible for employment in the U.S., they may use falsified documents in another person's name to find work. The problem with this is that the victim of the identity theft may be stuck with tax-related payments when tax season rolls around.
Auto loan fraud: With the car industry being so competitive, you'll often find auto dealers who are over-eager to sell. The problem is that they don't always thoroughly cross-check the applicant's details. Additionally, fraudsters can overcome certain safeguards by falsifying required documents like employment verification.
The reality is that criminals can obtain information about you in a variety of ways: stealing your wallet, phishing through emails, over-the-phone or in-person scams, the dark web, and more. But most commonly, this information is gathered through data breaches. Much of it is also publicly available online. It's for this reason you need to protect yourself from all angles to mitigate the risk and extent of the damage. Keep manually checking your bills, statements, and credit reports, but also make sure you have a trustworthy ID theft service monitoring activity.
How Do Identity Theft Protection Services Work?
Although each service has its own step-by-step process, you'll typically be asked to enter all relevant personal information after signing up. This usually includes your name, address, phone numbers, email address, Social Security Number, bank account information, and driver's license number. Keep in mind that the more information you provide, the more they can monitor. You'll then set up alerts so that you're notified every time the service's A.I. software detects irregular use of your data both online and offline.
If you receive a notification, you can check within your dashboard to see what data was used and where to determine if it is a case of identity theft. If needed, you can then speak to an identity theft restoration expert who will help you remedy the situation and claim damages for any lost money.
Summary
No one is safe from identity theft—not even kids. It can destroy your finances, credit, reputation, and more, which is why it's so important to be proactive rather than reactive. Although no tool can prevent identity theft, the best identity theft services will monitor your information, flag incidences where your information is being irregularly used, and provide 24/7 support to help walk you through the recovery process. With the top services offering identity theft insurance and reimbursement policies, you can rest assured you'll recoup any losses.