There's no sugarcoating it: cars can be downright money pits. From the initial outlay, maintenance, and repairs to insurance, fueling, and vehicle registration costs, you're likely paying thousands each year for the privilege of having wheels. And thanks to rising interest rates and the chip shortage, the average monthly car repayment is at an all-time high. In fact, auto loans are currently the third biggest contributor to household debt in the U.S., according to the latest data from Statistica.
But before you have a coronary just thinking about how much you plow into your baby each year, what do you say we put this depreciating asset to work for you and make some bona fide cash to offset some of these expenses?
Here are nine super smart ways to generate income with your car:
1. Drive for a ride-sharing app
2. Get paid to carpool
3. Try car sharing
4. Deliver food
5. Deliver other goods
6. Help people move
7. Turn your car into a moving billboard
8. Monetize car-related videos
9. Make your car a star
In this post, we'll take a closer look at each of these money-making strategies, explain how they work, and give you an idea of how much you could potentially earn on the side with your personal vehicle.
Without further ado, let's get this show on the road!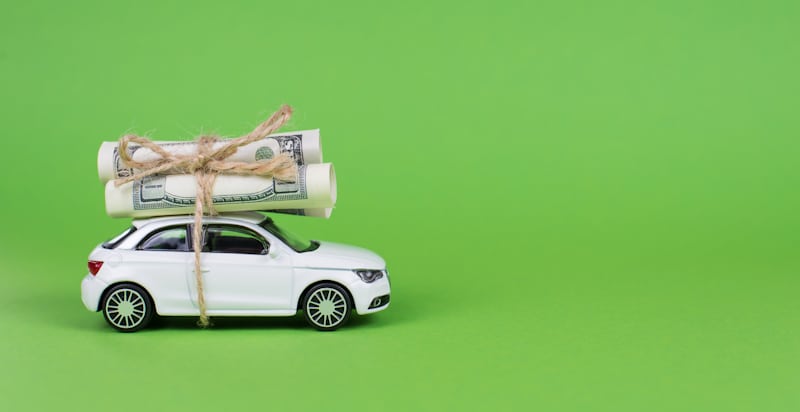 How to Make Money with Your Car
1. Drive for a Ride-Sharing App
Perhaps one of the most obvious ways to boost your income with your car is to join the fleet of drivers who are already making beaucoup bucks on app-based taxi services like Uber and Lyft. As long as you're at least 21 years old, have a good driving record, and a car that passes muster according to each app's requirements, you could also be making a small fortune.
And the good news is that you can do it in your spare time!
While there are now dozens of apps connecting commuters to drivers, here are some of the top options to get you started:
Uber: Possibly the most well-known ride-sharing app in the world, Uber is an on-demand taxi service that shows you available fares to pick up in your current location. After selecting the trip you want, you simply pick up the passenger(s) and drop them off at their destination. You can then see additional fares available close to that destination. To work for Uber, you need to be 21 years of age or older, have a U.S.-based license, have a car newer than 15 years old with four doors, and have insurance. Depending on which city you live in, requirements may be stricter. You can also rent a vehicle from one of Uber's car rental partners if you prefer.
Lyft: As Uber's biggest competitor in the U.S., Lyft works very similar to Uber and has the same requirements. Simply sign up, get approved, and start accepting fares. Many drivers use both Lyft and Uber to earn more money more reliably.
Wingz: Focusing more on event, airport, and senior rides, Wingz is a peer ride-sharing service with slightly stricter requirements than Uber and Lyft. Besides needing a car less than five years old, drivers must pass certain tests, including an online orientation and knowledge test. The upside is that rides are generally longer and more predictable, with some passengers booking weeks and even months in advance.
HopSkipDrive: Tailored toward families, schools, and children, this ride-sharing service is becoming a popular option in lieu of school buses. Of course, requirements are even stricter as you'll be driving young children. However, this app offers a fantastic way to not only earn money during school terms, but also during summer when kids need rides to day camps or grandma and grandpa's house.
Earning potential: Income varies, but plenty of drivers have now transitioned to ride-share driving as a full-time job. What's more is that in addition to the standard fare rates, many customers tip drivers, which can drastically increase earnings.
According to Salary.com, the average hourly rate for Uber drivers is around $18 but typically falls between $15 and $22, while Lyft reported an average of $24 per hour. With an app like Wingz you can earn around $30 per fare just for taking seniors to appointments. Drivers with HopSkipDrive can earn as much as $40 per hour. It all depends on how often you drive, how many fares you pick up, the length of the trip, and whether you receive a tip.
2. Get Paid to Carpool
Imagine getting paid to pick up and drop people off on your daily route. That's the beauty of carpooling for you.
This eco-friendly gig involves connecting with commuters willing to pay for a lift to a set location. They typically live on or near your route, so you're not inconvenienced by traveling too far out of your way for pickups and drop-offs.
As with many of the other options on our list, apps to help facilitate carpooling are springing up everywhere. Moovit Carpool, which connects public transit riders to drivers, is just one such solution. Hitch is another but with a unique difference. This app connects riders with drivers who are traveling between cities, which means you don't have to ride alone on those long road trips, and you can make some moolah while doing it.
In addition to these apps, you should consider reaching out on social media and WhatsApp community groups in your area to offer carpooling services. Some local authorities also promote their own car-sharing schemes you can join (e.g., South Florida's Commuter Services and Washington D.C.'s Commuter Connections), so be sure to look out for these opportunities.
Earning potential: Although you may not make as much money as you would with some of the other strategies in this post, you can earn around $200 per month to offset the running costs of your car. And with the price of fuel on the rise these days, carpooling is becoming a necessity for many commuters, so you're unlikely to be short of customers.
3. Try Car Sharing
Don't typically drive a lot? Why not rent out your car?
Leveraging the car rental market by leasing out your vehicle when you're not using it could be the perfect way to bring in some extra cash passively.
Somewhat like Airbnb for cars, car sharing is becoming a popular choice for travelers who don't want to deal with the hassle and exorbitant rates associated with traditional car rentals, as well as carless locals who simply need a ride for a few hours. The upside to this setup is that you don't have to drive anyone around like some of the other options on our list require.
So, how do you get into the car rental market?
The following apps help connect your potential customers to your rental vehicle(s):
Turo: If you have a registered car that's no older than 12 years old, doesn't exceed $150,000 in value, and has less than 130,000 miles on the clock, Turo could be the app for you. Focused on helping you build a small car-sharing business, this service offers built-in infrastructure, such as demand generation, insurance, an easy-to–use app, and safety and support features, including 24/7 customer service and roadside assistance. They also offer a dynamic fee structure where pricing is either manually set by you or by default according to your car's intrinsic value and local demand.
Getaround: This popular app works similarly to Turo but with slightly less pay and stricter requirements. Besides needing a car that's newer than a 2010 model, it must have less than 125,000 on the clock and can only seat a maximum of eight passengers. The upside is that you don't have to meet drivers to hand over the keys. Getaround will install Getaround Connect, which is a device that renters can use to locate and unlock your car after they've made a booking and paid.
HyreCar – Unlike Turo and Getaround, HyreCar lets you rent out your vehicle to rideshare and delivery drivers (i.e., drivers who work for companies like Uber and Lyft but don't have their own mode of transport). The benefit of this option is that you're renting to drivers who have more than likely already been screened by the car-sharing services they use.
If you have a luxury car, another option for raking in some cash is to rent it out privately for proms, weddings, and other special occasions. People are often looking to book classics and high-end vehicles for events, so consider ways you can promote your car for rental in your area.
Of course, there are some downsides and risks to short-term or hourly rentals. Besides not being able to use your car for a last-minute store run, you have to entrust your pride and joy to a stranger.
However, this option can be quite lucrative for not having to do much.
Earning potential: According to Turo, their vehicle owners earn an average of $10,516 per year by renting just one car, while others with a fleet of nine vehicles earn as much as $94,642 annually. HyreCar's website says car owners can make up to $1,000 per month. The reality is that your earning potential is only limited by how often you make your car available for rent and how many cars you're renting.
4. Deliver Food
Delivering grub to other people may seem like a job for teenagers, but there's a reason so many people are getting in on the gig later in life: there's an opportunity to make a decent living. Besides standard rates for food delivery, customers often tip—drastically increasing your pay. Plus, this gig provides the kind of work flexibility few jobs do.
Fortunately, apps like DoorDash, Uber Eats, Postmates, and Grubhub are making it easy for drivers to pick up orders without having to work for one specific restaurant. The key to making this side hustle a success, though, is to be fast while still traveling within the speed limit so that food arrives quickly and isn't cold. You should also have good road knowledge of the local area.
Earning potential: According to Indeed, food delivery drivers in the U.S. earn around $23.99 per hour—44% higher than the national average. Not too shabby for carting pizzas and sushi from door-to-door, right?
5. Deliver Other Goods
If you like the thought of deliveries but don't want the smell of tacos lingering in your car, consider signing up for Amazon Flex, Instacart, Shipt, or Postmates (non-food deliveries). With these apps, you're essentially acting as a courier, transporting packages from depots to doorsteps.
As with food deliveries, you can arrange your delivery windows based on your availability. You can also work for more than one app, so you're maximizing income and not putting all your eggs in one basket.
Although there are some requirements for joining these companies, they usually entail being 21 years of age or older, having a valid driver's license, and owning a mid-sized or larger vehicle. Keep in mind that your car must be able to fit larger items, so a mid-size sedan, van, or truck with a covered bed is best.
Earning potential: Depending on the app, you can make approximately $18 to $25 an hour. The good news is that work is pretty steady in this field with peak times during holiday seasons, so there's plenty of opportunity to earn.
6. Help People Move
An industry that never seems to have any shortage of work is removals. People are constantly packing up houses, dorm rooms, offices, storage units, and more to relocate, so if you're willing to throw in some labor along with the use of your vehicle, this could be a great opportunity to make some extra dough.
While box trucks, cargo vans, pickup trucks, and SUVs are best suited to this type of gig, there are plenty of people who want smaller items moved. In this case, renting a U-Haul or moving company doesn't make economic sense to them. Therefore, a decent-sized trunk and good backseat space are all you need to offer moving services—even better if you can tow a trailer.
Apps like Dolly are making it easier to build a delivery or moving business on your own terms by connecting you with people who need on-demand moving services. However, you should also look on sites like TaskRabbit, where people often post once-off moving gigs that can help you bring in some extra cash.
Earning potential: Depending on what kind of vehicle you have to move goods and how much weight it can carry, you can earn anywhere from $35 to $50 an hour.
7. Turn Your Car into a Moving Billboard
Wrapping your car in advertising for cash (a.k.a. carvertising) is perhaps one of the easiest and most stress-free ways to make money. Although it's not for everyone (the goal is to draw the eyes of strangers, after all), it can bring in a tidy sum each month.
So, what does it entail?
Essentially, advertisers will determine whether your car is a good candidate for their brand. If so, they'll require you to place removable decals on your vehicle. The decals are paint-safe, and the application is done by an approved car-wrapping service, so you can rest assured the job will be done professionally.
Smaller ads can take as little as 60 minutes or less to apply, while full wraps can take all day. If you have a full-time job, this is something you'll want to factor into your schedule.
How do you apply and qualify for this side hustle?
To get in on this gig, simply sign up to one or more of the following car-wrapping companies.
Wrapify: This app-based service lets you connect with potential advertisers like Microsoft and Zillow by tracking your vehicle's normal route for a while and then matching you to campaigns available in your targeted area. If you qualify and receive an offer, you'll need to take your car to be wrapped and then fulfill your end of the deal by driving a certain number of miles in specified areas.
Nickelytics: Like Wrapify, Nickelytics will match you with eligible campaigns after you download the app and sign up to be a driver. You can then either accept or reject the offer. If you accept, Wrapify will send you to have a wrap custom installed. Depending on the style of wrap, they may simply send you a self-install wrap instead.
Carvertise: This is another legitimate advertising company that connects you to brands that want to advertise in areas you frequent. The great thing about this app is that you have the opportunity to earn more if you park in certain areas during set timeframes.
Before signing up to any of these apps, it's crucial to note that advertisers will assess your candidacy based on several factors, including:
Whether you have an active driver's license, clean background check, respectable driving record, car insurance, and good driving habits
Locations (i.e., where you live and the routes you usually drive)
The times you tend to drive (peak hours often get paid more)
The make, model, and year of your car (newer vehicles in good condition are generally preferred)
How many hours you spend behind the wheel each day on average
In addition, each promotional campaign will pay differently and last a pre-specified period. To ensure you drive the routes and mileage you claim you typically drive, the relevant app you're signed up to will track your car during the promotional period. This way, an advertiser can be sure their brand is being viewed by the public and your car isn't constantly parked where no one can see it.
If you don't have luck with any of the car ad services mentioned above, you can also try to generate gigs on your own. Local restaurants, hotels, dentists, spas, and other local businesses may be willing to pay you to carry their brand on your car. It's simply a matter of thinking outside of the box when it comes to the businesses you could serve and approaching these companies with a persuasive pitch.
One of the great advantages of wrapping your car for cash versus making money with your car doing something like deliveries is that you don't have to drive more than normal. You only need to meet the advertiser's minimum mileage requirements to get paid.
Earning potential: Again, pay will depend on a variety of factors, including the size of the ad, the length of the campaign, and more. However, you can expect to earn anywhere from $175 to as much as $1200 per month, with campaigns lasting anywhere from seven days to three months.
8. Monetize Car-Related Videos
Know your way around a car?
If the thought of playing taxi driver, delivering food and goods, or helping to move people doesn't appeal, making and monetizing videos about how to maintain or repair your car could be a great money-maker.
Although this method of using your car to earn extra income won't necessarily pay off immediately since sites like YouTube require you to reach a certain number of subscribers and watch hours before paying for the ads that appear on your videos, generating brand deals and leveraging affiliate marketing to sell car-related products can help put money in your pocket quicker. You simply need to think strategically about how you can create videos like car tutorials or buying guides in creative and interesting ways. And if you're unsure about creating content in this niche, watch the videos of fellow car content creators to see what they're doing.
Earning potential: How much you make with car-related videos is truly limitless. Some content creators are coining it just with ads, but those that are leveraging multiple streams of income, like brand deals and affiliate opportunities, have found the Holy Side Hustle Grail. Earnings may be slow to start as you build your viewership, but you could be laughing all the way to the bank if you stick with video monetization as a long-term strategy.
9. Make Your Car a Star
Believe it or not, renting your car to Hollywood is an actual thing—one that's particularly lucrative for car owners with classics, rare cars, period-specific cars, or limited edition models.
Although movie, TV, and commercial production companies will usually work through car brokers or manufacturers to get what they need, there are also those that work through sites like Cinema Vehicles and Movie Time Cars to source the perfect set of wheels for their set.
Through these sites, you can register any vehicle free of charge, regardless of the make, model, condition, or year. This includes brand-new cars, antiques, specialty vehicles, trucks, motorcycles, and more. The site will then match your registered vehicle to relevant car requests. Since inquiries come in from around the country, your location shouldn't hinder you from making money this way.
You can also search online for car brokers who work with legitimate car companies. Although there may be more legwork initially to find a broker to work with, having someone who has a variety of connections in the industry will likely produce more gigs than if you approach this opportunity more passively.
Whatever you do, make sure you have a rock-solid contract in place. At the very least, it should stipulate how your car will be used, what happens if your vehicle is damaged, whether your car is covered by liability insurance, and how much you will be paid. If you're working through a car broker, they will manage this aspect of lending your car to Hollywood for you.
Earning potential: Typically, production studios will pay for each day your vehicle is on set. The exact amount will depend on the type of vehicle you have. Car owners with regular vehicles can expect to earn anywhere from $250 to $500 a day, while those with rare or classic vehicles will earn more.
Final Thoughts
Thanks to modern technology like the internet and apps, it's easier than ever before to fill your wallet with some extra greenbacks. Leveraging your car for any of the gigs listed above is just one highly effective way.
However, if you're considering any of these options, be sure to check with your insurance provider to make sure there are no exclusions in your policy and that you can take advantage of these great ways to make money with your car. You'll also want to make sure that you account for things like wear and tear, the resale of your vehicle, and taxes since you'll be an independent contractor. As long as you're smart about your decisions, the payoff could be well worth the effort of making cash with your car.