Is your current financial filing system a shoebox stuffed with receipts?
Are manual account records driving you bonkers?
Starting to realize your favorite part of childhood was not paying bills? 
You're in luck. You're about to discover the holy grail of budgeting and money management software to take your troubles away and get your money matters on track.
In this post, we share 11 of the best online personal finance software solutions with the sexiest value propositions. In fact, survey results from one of our picks showed new budgeters saved $600 by month two and $6,000 within their first year!
What Is the Best Personal Finance Software?
Quicken: Offers the most comprehensive list of features for personal and business finance management.
YNAB: Makes breaking bad money habits a breeze.
Mint: Effectively monitors daily activity for better budgeting.
Personal Capital: Combines awesome budgeting and tracking tools with investment management capabilities.
TurboTax: Takes the frustration and fear out of filing returns.
Honeydue: Removes the stress of combining finances for couples.
EveryDollar: Offers a quick and easy way to budget without the need to see a complete financial picture.
Moneydance: Allows for extensive integration that creates a more customized and useful money management experience.
Kubera: Provides access to phenomenal net worth tracking tools.
Goodbudget: Lets you use the envelope system digitally.
Spendee: Makes managing finances as a household easy.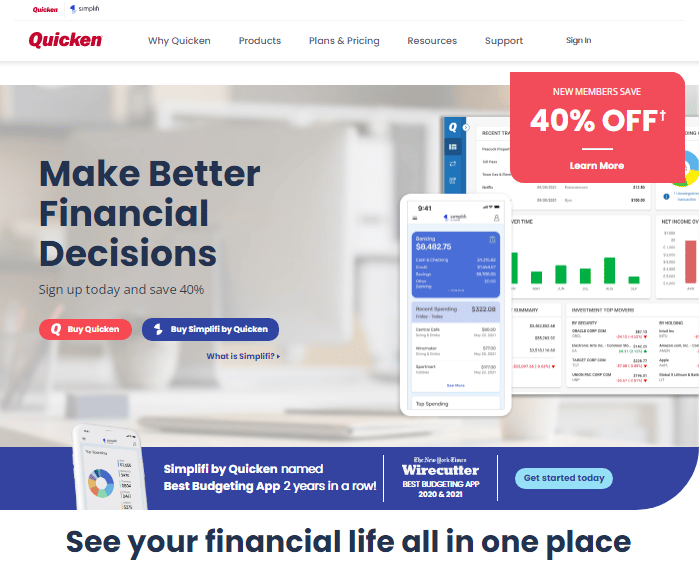 Overview
Thanks to its robust finance, planning, and investment tools, Quicken has quickly become the best all-round personal finance software available today.
Available on MacOS, Windows, Android, and iOS, this secure, intuitive, and user-friendly software lets customers aggregate accounts, track transactions, budget smartly, pay bills, track and manage loans and investments, plan for retirement, and more.
Highlights
Get a consolidated view of all your accounts in one place for stress-free budget planning.
Save time and hassle by organizing, tracking, and paying your bills from one dashboard.
Set and save for long-term financial goals so that you can retire without money worries.
Run "what if" scenarios on investments and loans to make informed decisions that help you pay off debt and grow your nest egg faster.
Make investment tax planning easy and take the frustration out of business tax prep—all while keeping more money in your pocket.
Pricing

Quicken offers four pricing tiers to suit every user's software needs and budget.
Their Starter tier provides basic personal finance tools for $41.88 per year, while their most popular Deluxe tier offers additional budgeting customization and goal-setting tools for just $59.88 per year.
For users wanting to simplify taxes and maximize investments, Quicken's Premier tier costs $83.88 annually. Their Home & Business tier, which provides access to special business features, is $119.88 yearly.
Wrap Up
Quicken is ideal for individuals wanting to take control of their finances, as well as small business owners whose business activities are integrated with their personal credit cards and bank accounts.
If you're unsure whether you need so many features in the best personal finance management software, Quicken offers a 30-day money-back guarantee on all pricing tiers so that you can try it risk-free!
2. YNAB (You Need a Budget)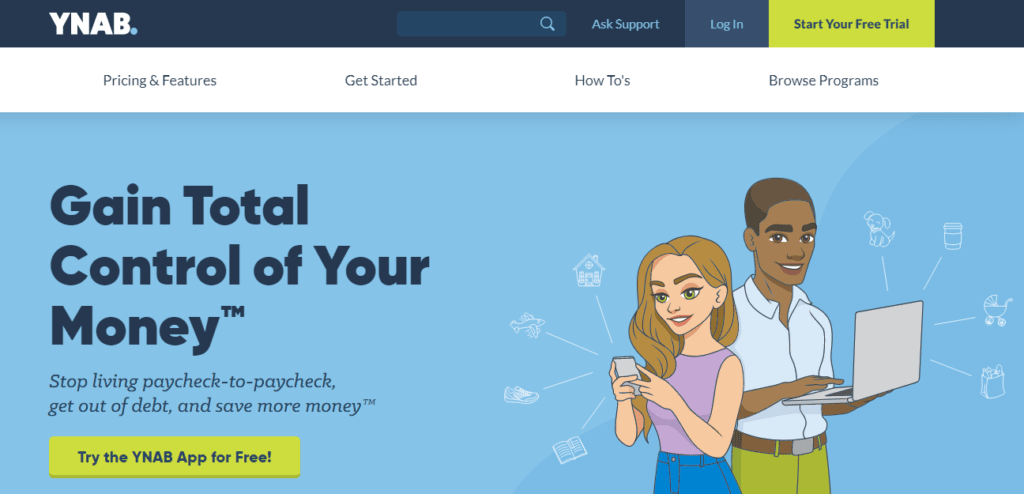 Overview
YNAB is an award-winning, zero-based budgeting program that aims to change poor money management habits and break the paycheck-to-paycheck cycle.
Following a proven, four-step method, users assign every dollar earnt to a spending category or savings goal, essentially giving each dollar a "job." YNAB also encourages saving, helping users build a multi-month emergency fund. On average, customers save $6,000 in the first year.
YNAB is supported on Windows, MacOS, Android, iOS, iPad, Apple Watch, and Alexa.
Highlights
Effortlessly link all accounts in one place and import transactional data automatically.
Learn healthy financial planning habits with a hands-on, proactive approach to budgeting.
Easily manage shared expenses with a spouse, partner, family member, or cohabitant while still maintaining financial privacy and independence.
Improve your chances of success and ensure you don't overspend with real-time updates and flexible budgeting.
Know when to double down on effective strategies or shore up your finances with helpful insights provided by YNAB's reporting capabilities.
Pricing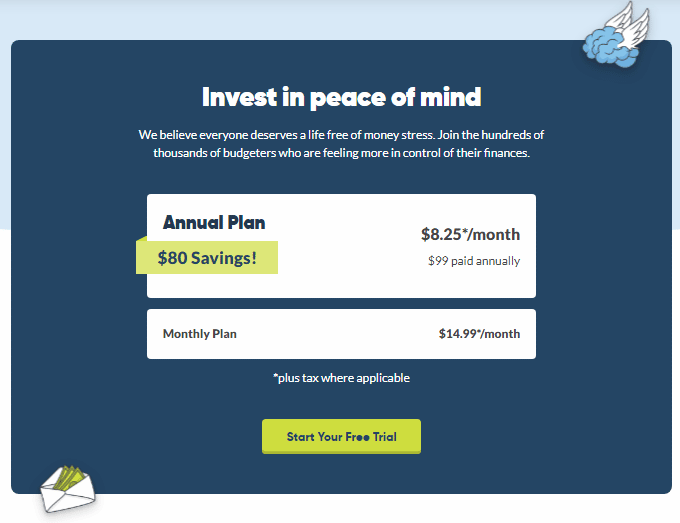 YNAB's pricing options are simple:
Either pay $14.99 on their month-to-month plan or save $80 by paying $99 for the entire year.
You can cancel at any time.
Taxes may apply.
Wrap Up
Perfect for budgeting beginners, financially flippant spenders, or personal finance powerhouse users, YNAB's features make getting out of debt and saving money simple. This budgeting software company offers a generous risk-free 34-day trial period with no upfront commitment, so you've got nothing to lose by giving it a try!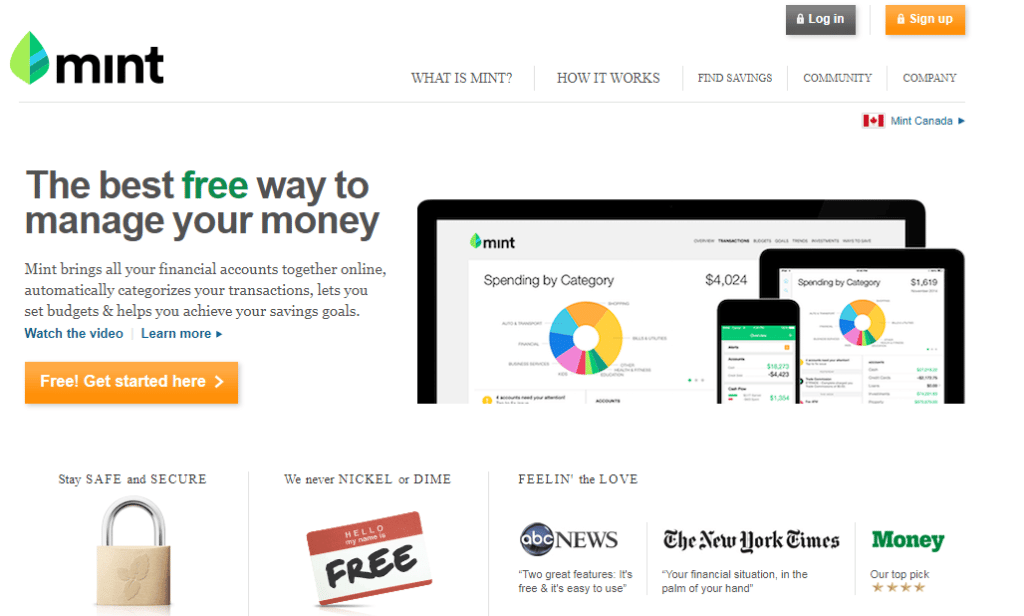 Overview
A trailblazer in the personal finance industry, Mint is a money management and financial tracker that helps users get ahead of spending, manage debt, and grow their net worth by providing customizable budgets, personalized insights, and subscription monitoring, among other things.
According to Mint's parent company, Intuit, it's the No.1 most downloaded app in this space and acquired 20 million users in its first decade alone. Platforms include Android and iOS.
Highlights
Track your bank accounts, credit cards, investments, IRA, 401(k), and more in one place.
Put more into your emergency fund with money-saving insights based on your financial information through MintSights.
Never miss a payment with bill pay reminders. Know when a payment is due and how much is in your account to put towards it.
Get free credit score monitoring along with identity theft and fraud alerts. Feel confident and secure that your personal and financial information is safe and that your financial health remains intact.
Easily integrate Mint into Intuit's other financial tools for a more feature-rich money management experience.
Pricing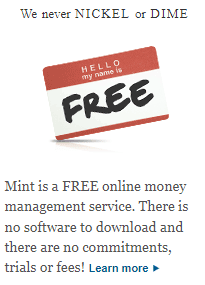 You can't get simpler or cheaper pricing than FREE! And no, there are no features secretly locked behind paywalls.
Wrap Up
Mint is an excellent spending tracker for the everyday consumer who wants to monitor daily activity to see where their cash goes and where they can save. Since it's totally free, test it out to see how you can budget effectively and squeeze all you can out of every penny.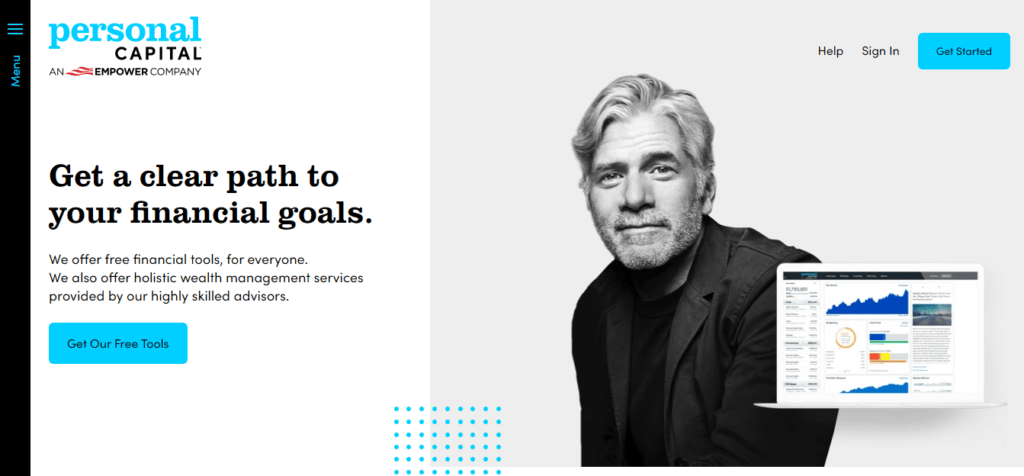 Overview
Although Personal Capital is primarily a wealth management and investment tracking tool, it also offers top-notch budgeting and savings tools for the not-so-wealthy user. Features include cash flow tracking, budgeting, savings planning, real-time net worth tracking, education cost planning, retirement planning, and more.
For users with a balance of $100,000 or more, Personal Capital offers portfolio management services that include personalized advice from financial experts. The software is available on desktop, Android, and iOS.
Highlights
Enjoy hassle-free integration with all of your accounts. (The app supports more than 14,000 financial institutions.)
Avoid confusion by keeping track of your income, expenses, assets, and investments in separate categories.
Get detailed analytics for sound decision-making that secures your financial future.
Painlessly create and follow a budget using interactive cash flow tools.
Uncover hidden fees currently costing you a fortune with the fee analyzer tool.
Pricing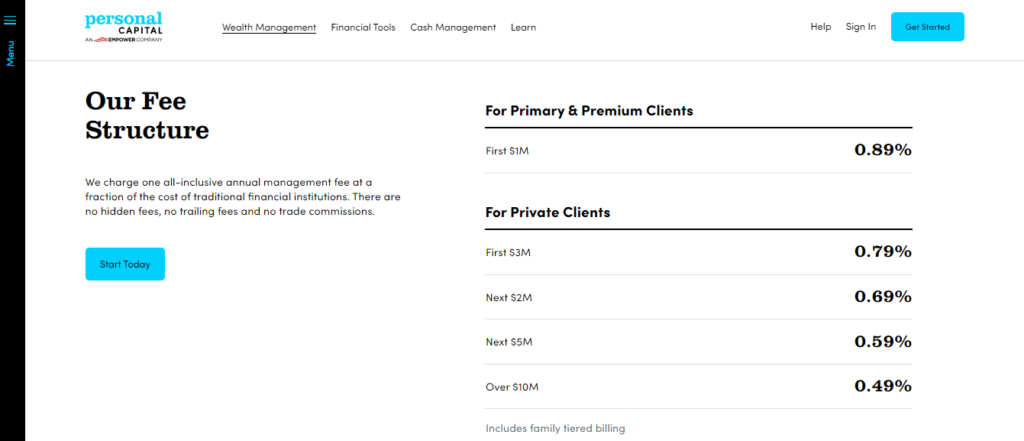 Personal Capital's core financial tools are FREE to use. However, high-end users pay a tiered fee depending on their account balance.
The all-inclusive annual management fee works as follows:
Tier 1: 0.89% for $100,000 - $1,000,000
Tier 2: 0.79% for $1,000,000 - $3,000,000
Tier 3: 0.69% for $3,000,000 - $5,000,000
Tier 4: 0.59% for $5,000,000 - $10,000,000
Tier 5: 0.49% for $10,000,000+
Wrap Up
For users who want an awesome suite of financial tools and a clear path to their financial goals, Personal Capital earns its reputation as one of the best personal finance apps around. Although asset and investment-rich clients will need to pay for exclusive personalized services provided by actual humans, the company's financial planning and analytics tools are on the house and waiting for you to give them a go!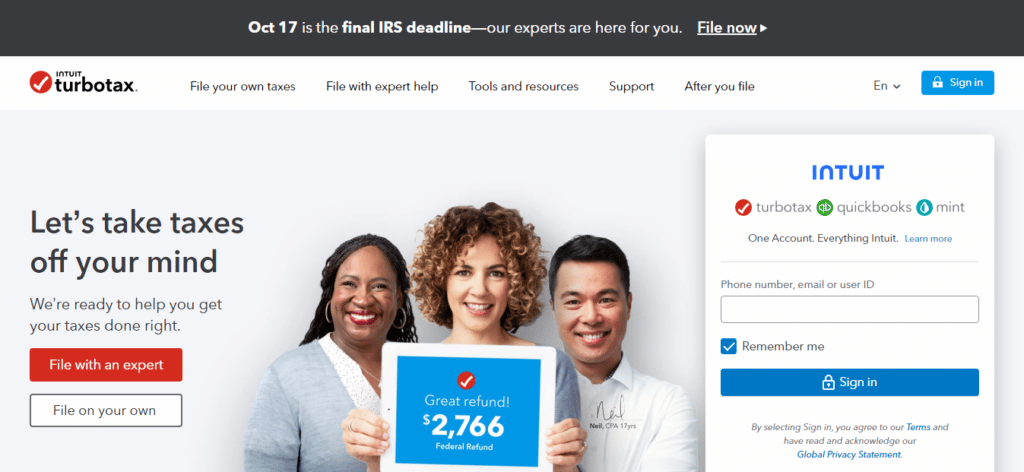 Overview
No one likes dealing with Uncle Sam, so it's no surprise TurboTax makes the cut for the best personal finance software specific to tax preparation. Although it's slightly pricier than other options, this handy software takes the headache out of tax season by helping you correctly fill out and file your return.
Whether complex or simple, TurboTax has a solution for every tax situation. Simply access the software on Windows, MacOS, Android, or iOS.
Highlights
Simplify filing with an easy-to-use, intuitive interface. Snap a photo of your W2 form, and TurboTax will automatically fill out your return.
Ease the fear of filing and avoid mistakes with TurboTax's 100% accurate calculation guarantee. They'll pay IRS penalties for errors.
Save on CPA, EA, or Tax Accountant fees.
Guarantee a legally maxed-out refund and get refunded faster.
Feel more comfortable by opting to have a tax expert provide advice or file for you.
Pricing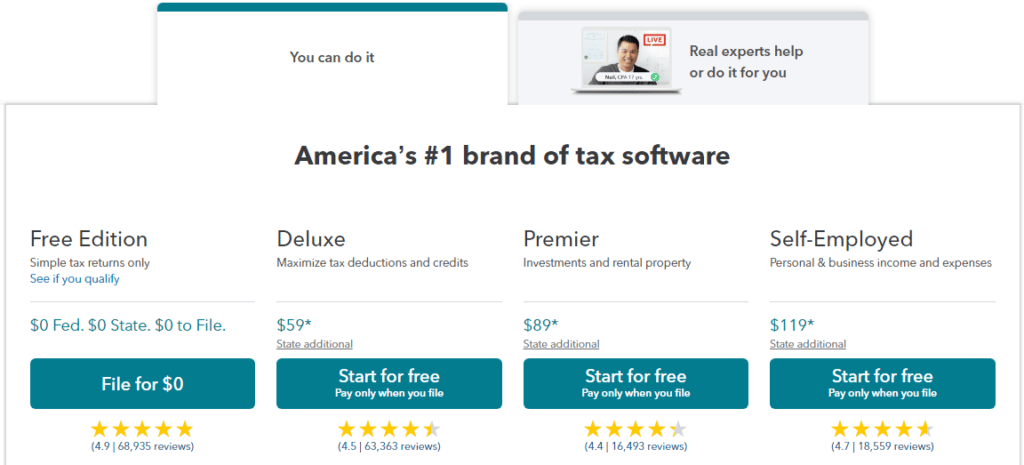 TurboTax has four pricing tiers and two filing options: 1) with help and 2) without it.
Their Free Edition tier costs nothing if you prefer a DIY approach. With expert help, this tier is called Basic and costs $79.
The Deluxe tier is $59 if you file. It's $119 with expert assistance.
The Premier tier is $89 without help and $169 with it.
The Self-Employed tier is $119 for DIY and $199 with support.
Wrap Up
TurboTax is ideal for anyone who wants to save money by filing their own return but also wants the flexibility and security that comes with live advice and expert filing services. If you have a simple financial situation, try TurboTax's Free Edition next time you need to file your return.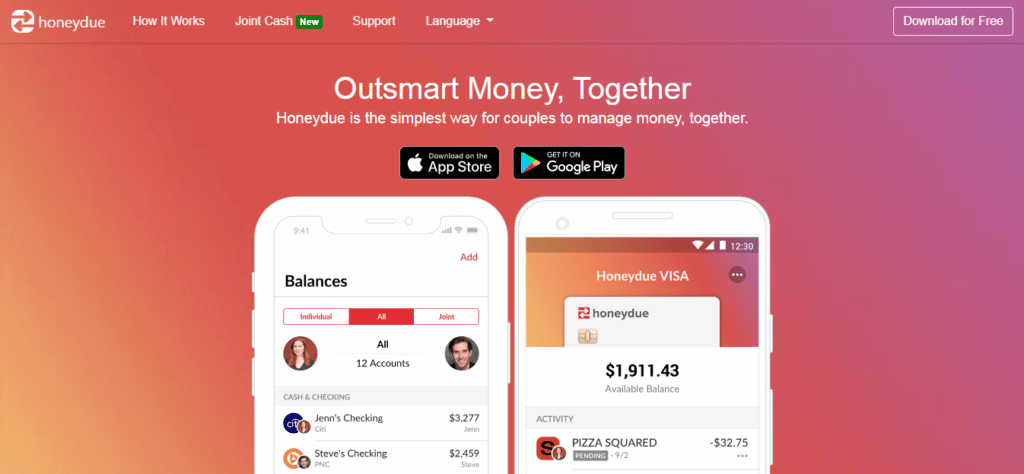 Overview
Specially designed for couples, Honeydue aims to create transparency and improve communication about finances between partners. While the software doesn't come fully loaded with all the bells and whistles, it provides some nifty features like a joint bank account, support for multiple languages, and access to cash from Google Pay, Apple, and 55,000+ surcharge-free ATMs. You can download Honeydue on iOS or Android devices.
Highlights
Easily share budgets and transactions with your significant other to get a complete picture of your financial situation as a couple.
Eliminate household tension over money matters by talking about finances in the in-app chat feature instead of over dinner.
Conveniently track all of your accounts in one place. The app supports 20,000+ financial institutions in five countries.
Coordinate bills and get bill pay reminders so that you avoid penalties and credit score drops on missed payments.
Seamlessly set spending limits to prevent overspending.
Keep your financial independence with the ability to choose what to share.
Pricing
Simple pricing for a simple budgeting tool: Honeydue is completely FREE!
Wrap Up
Beautiful in its simplicity, Honeydue is a great option for people who want to get out of debt, budget effectively, and save more with their soulmate. Since it'll cost you nothing, try it out with your partner and bring harmony to your home.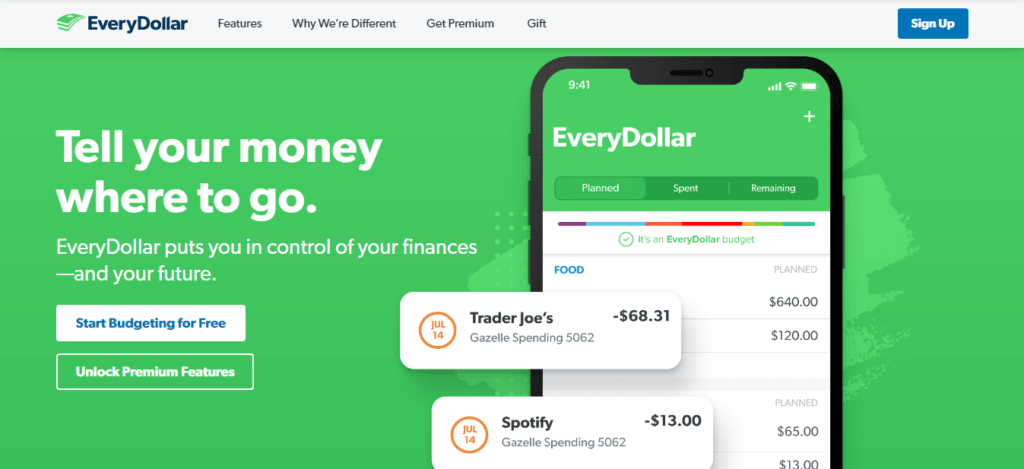 Overview
EveryDollar is an easy-to-use budgeting app that takes the guesswork out of money management. Besides tracking spending, it lets you customize budget categories, line items, and expenses, create savings goals, and set due dates for bills.
With the app's premium features, you can connect to your bank accounts for automatic transaction syncing, receive spending insights, access smart tracking recommendations, and more. Access the app on the web or on iOS and Android devices.
Highlights
Keep money management simple with a zero-based budgeting approach.
See where you're going wrong and where you're going right with personalized reports and recommendations based on your money habits.
Get motivated with quick wins by leveraging the "Snowball Method." This means paying off small debts first and then rolling that freed-up cash into the next debt to pay off what you owe faster.
Connect to savings and investment accounts for a full picture of your finances.
Gain complete control of your money with hands-on budgeting. No "set it and forget it" Robo-budgeting.
Pricing
EveryDollar offers a FREE bare-bones version, but you have to enter your information manually. Plus, you won't have access to premium features.
The paid version includes two pricing options. The monthly plan is $12.99 per month, while the annual subscription is just $79.99—a $75.98 saving!
Wrap Up
Although EveryDollar is useful to anyone who wants to track their spending and create a monthly budget, it's a particular favorite among those following Dave Ramsey's highly effective baby steps for saving for emergencies, getting out of debt, and building wealth. Although you can start with the free option, consider testing out the paid version's free 14-day trial.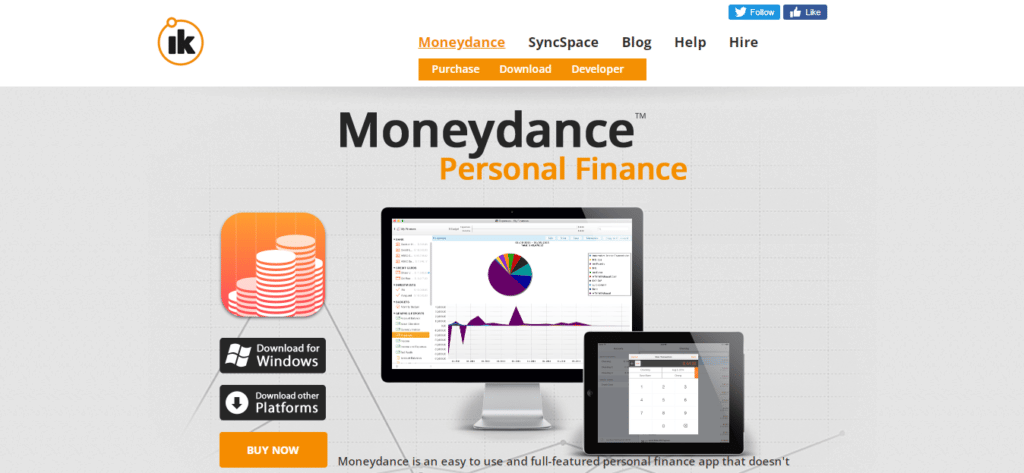 Overview
Moneydance is an advanced, full-featured personal finance app that's often compared to Quicken's Deluxe tier. While Moneydance has essential features like account management, online banking, bill payment, budgeting, and investment tracking, it also integrates with an array of extensions that add additional functionality to the software. The app is available on several major platforms, including Windows, Linux, MacOS, Android, iPhone, and iPad.
Highlights
Get more than basic budgeting with an impressive selection of investment features that let you set up securities, record your holdings, keep your portfolio updated, and track your performance.
Reconcile transactions, balance your accounts, and detect fraudulent activity with ease.
Handle multiple international currencies and cryptocurrencies, and enjoy automatic conversions.
Easily track your personal or business finances and make sound decisions with the in-depth analysis budget reports provide.
Integrate extensions to see the full power of Moneydance with features like financial forecasting, envelop budgeting, stock prices at a glance, ratio or percentage calculators, and more.
Save time with an auto-complete feature that sorts transactions and calculates balances automatically.
Pricing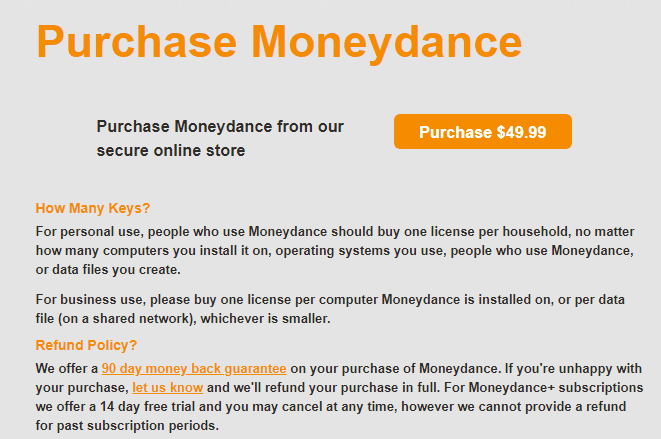 A Moneydance subscription costs $49.99 per household with unlimited use. This is a one-time fee.
For business purposes, users need to buy one license per computer.
Wrap Up
As far as the best personal finance manager solutions go, Moneydance is an exceptional choice for anyone looking to get their finances in check, but the app really shines for investors. Fortunately, it has a 14-day free trial period and a 90-day money-back guarantee, so there's no excuse not to give it a spin.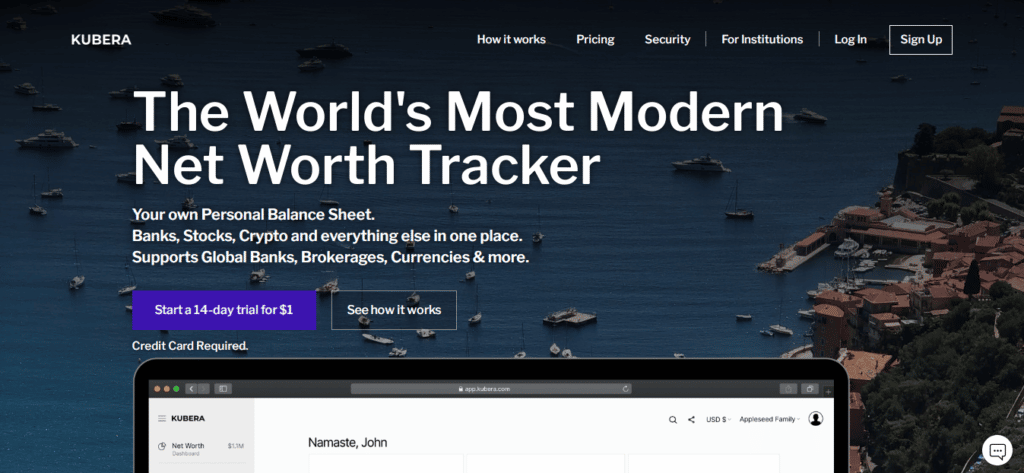 Overview
Kubera is a modern personal finance tracking app that provides in-depth wealth management tools usually reserved for billionaires. Now they're available to everyone.
With Kubera's user-friendly interface, you can easily track everything from bank and brokerage accounts, crypto wallets, stocks, bonds, and real estate to precious metals, art, NFTs, and digital assets. Kubera has a progressive web app supported by MacOS, Windows, Linux, and iOS. Android web browsers can access the app's web version.
Highlights
Simplify the way you track assets and investments scattered across multiple custodians by monitoring them all in one place.
Easily see a snapshot of your portfolio's performance and how it's changed over time.
Ensure your beneficiary's have access to your assets should anything happen to you with the app's Dead Man's Switch functionality.
Effortlessly share your investment or asset information with your money manager.
Sync to over 20,000 bank and brokerage accounts and enjoy unfettered connectivity thanks to Kubera's use of multiple aggregators.
Pricing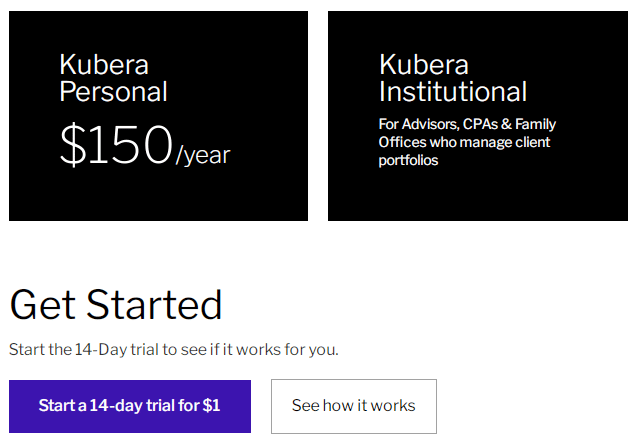 Kubera's pricing is simple for personal use. The app costs $150 per year.
You can also start a 14-day trial for just $1.
For wealth management professionals, such as CPAs and Advisors, there's a white label Kubera Institutional tier that comes with customized pricing depending on your needs.
Wrap Up
While Kubera doesn't have budgeting features or portfolio analysis, it's perfect for users who want the simplicity and convenience of managing a complex asset portfolio on a single platform. If you're not sure whether Kubera is right for you, the $1 trial period makes testing this app a no-brainer.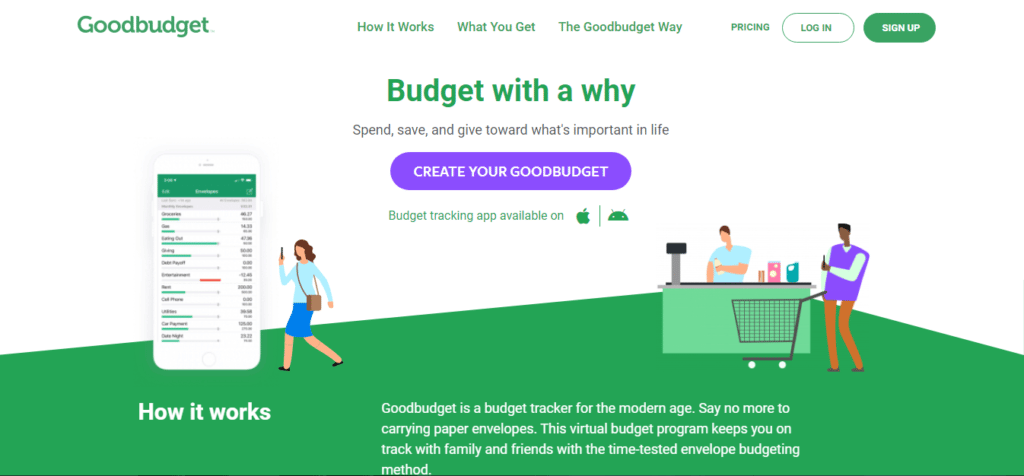 Overview
Leveraging the ever-popular envelope budgeting system in a digital world, Goodbudget offers a hands-on way to plan your finances. Rather than focus on previous transactions, the app lets you portion out your income each month toward expense and saving categories (i.e., envelopes).
Supported platforms include Android and iOS.
Highlights
Take advantage of excellent reporting tools that let you analyze your month-to-month income and spending trends.
Easily sync and share household budgets with others.
Pay off debt while putting money aside for savings and large purchases.
Further your financial prowess with the app's educational resources, including podcasts, budget bootcamp webinars, and more.
Reach financial milestones and achieve your goals without feeling overwhelmed by complex interfaces or finance tools that take forever to learn.
Pricing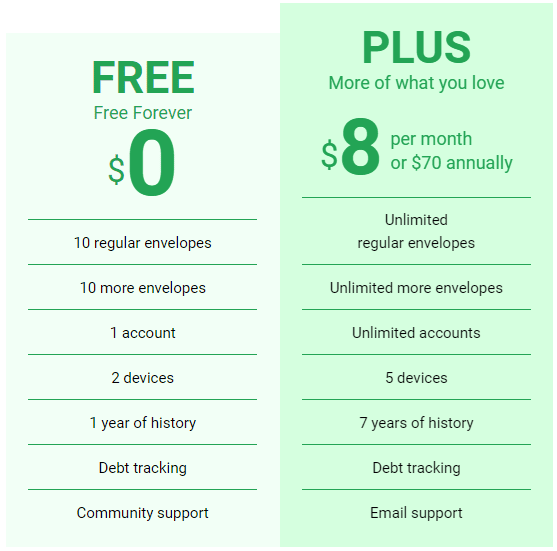 Goodbudget has two pricing plans: Free and Goodbudget Plus.
The free version is free forever while the plus version is $8 per month or $70 annually.
Goodbudget also offers a 30-day money-back guarantee.
Wrap Up
Highly effective for monthly budgeting, Goodbudget is a strong choice for users who like the simplicity of the envelope system without minding the hassle of manual entries. Even though the free version has feature limits, it still makes our list of the best online personal finance software so give it a try!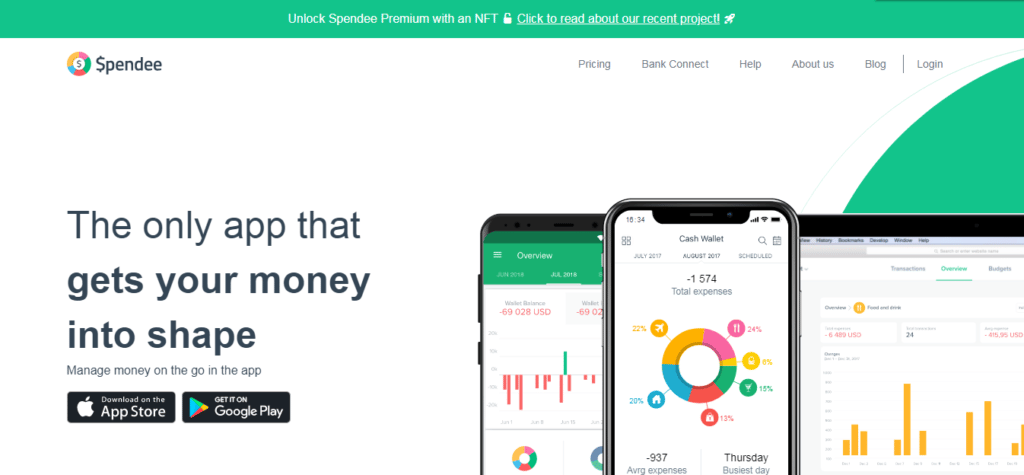 Overview
Spendee is a collaborative budgeting app that lets couples, families, and roommates handle their shared expenses with ease. Besides tracking income and expenses to give users an overview of their cash flow, the app also makes saving simple and supports multiple currencies. You can access the app on Android or iOS.
Highlights
Connect all accounts, including bank, crypto, and E-Wallets, in one place and effortlessly track transactions.
Save time with the app's auto-categorization engine that categorizes transactions for you.
Benefit from smarter budgeting by creating different budgets for different categories or wallets.
Get a grip on your financial habits with easy-to-understand graphics.
Never miss a payment or exceed the budget with alerts and reminders.
Pricing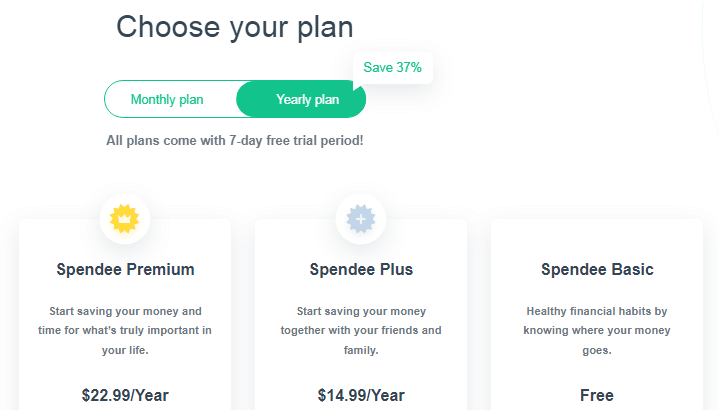 Spendee offers three subscription options:
The Basic plan is free but limited in functionality.
The Spendee Plus plan is $1.99 per month or $14.99 per year.
The Spendee Premium plan is $2.99 per month or $22.99 per year.
Wrap Up
Spendee is must-have software for anyone who wants to better understand their financial situation for better decision-making. With Spendee supporting multiple currencies, it's also great for travelers. All plans offer a 7-day free trial period, so you can upgrade your experience and test out Spendee's premium features risk-free!
What Is Personal Finance Software?
Personal finance software is an application designed to help you manage all aspects of your financial affairs. While personal finance apps have different features and purposes, the best online personal finance software will let you track spending, create budgets, pay down debt, grow savings, monitor investments, and plan for retirement, all important aspects of proper money management.
Summary
One size doesn't fit all when it comes to the best online personal finance software. Every user has different needs and expectations, so figure out what features and functionality matter to you most. Our top picks offer a great start, but the best personal finance program for you will be the one that motivates you to demolish debt, build wealth, and reach your financial goals in 2023 and beyond.