Your credit score is crucial for nearly every financial aspect of your life. It will determine whether you are approved for a mortgage, auto loan, or credit card. It can even affect your ability to rent an apartment or get a job. Because of its importance, it's smart to stay on top of your score. You can do so using credit monitoring services to watch out for potential fraud. The right services will let you spot fraud immediately, so you can minimize the impact on your credit and immediately correct the problem.
What Are The Best Credit Monitoring Services?
The best credit monitoring services are those that explicitly look out for fraud. These services will prioritize potential identity theft threats. Top services also feature alerts, some even offering identity theft insurance.
As you choose the service that is right for you, consider the following:
Cost (and if they are paid monthly or annually)
What type of alerts you can set up (for what actions and text versus email)
If it monitors all three bureaus
If it scans the dark web
If it includes identity theft insurance
Customer support
With these factors in mind, the following are our picks for the best services to monitor your credit.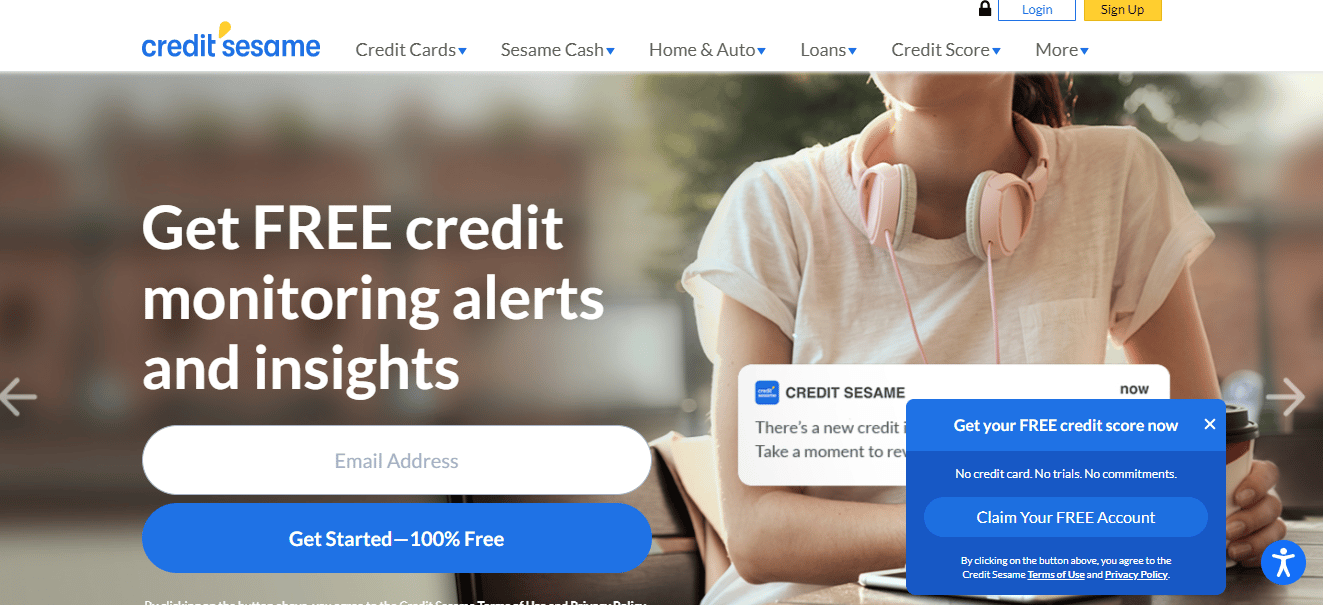 Overview
Credit Sesame offers one of the best free services for credit monitoring. You can also access your credit report or credit score for free via Credit Sesame with the same account. As a free solution, it doesn't include any insurance, but you will get alerts and the ability to easily detect errors on your credit report. Keep in mind that Credit Sesame only checks TransUnion, not the other two bureaus.
Highlights
Activate real-time alerts about important changes to your TransUnion credit report.
View a snapshot of your loan payments, interest rates, debt, and credit utilization.
Use the service to spot errors on your credit report.
You can also get free credit reports and check your credit score for free.
You can sign up and get started within just 90 seconds.
Pricing
This service from Credit Sesame is completely free. You will not even have to enter your credit card details or make any other commitments.
Bottom Line
Credit Sesame is an excellent option for those who don't want to pay for credit monitoring and are happy to monitor a single bureau only—TransUnion, in this case. The service is free and easy to use. It's worth noting that there aren't any paid upgrades available, so if you decide you want more information or features, you will have to sign up for another service.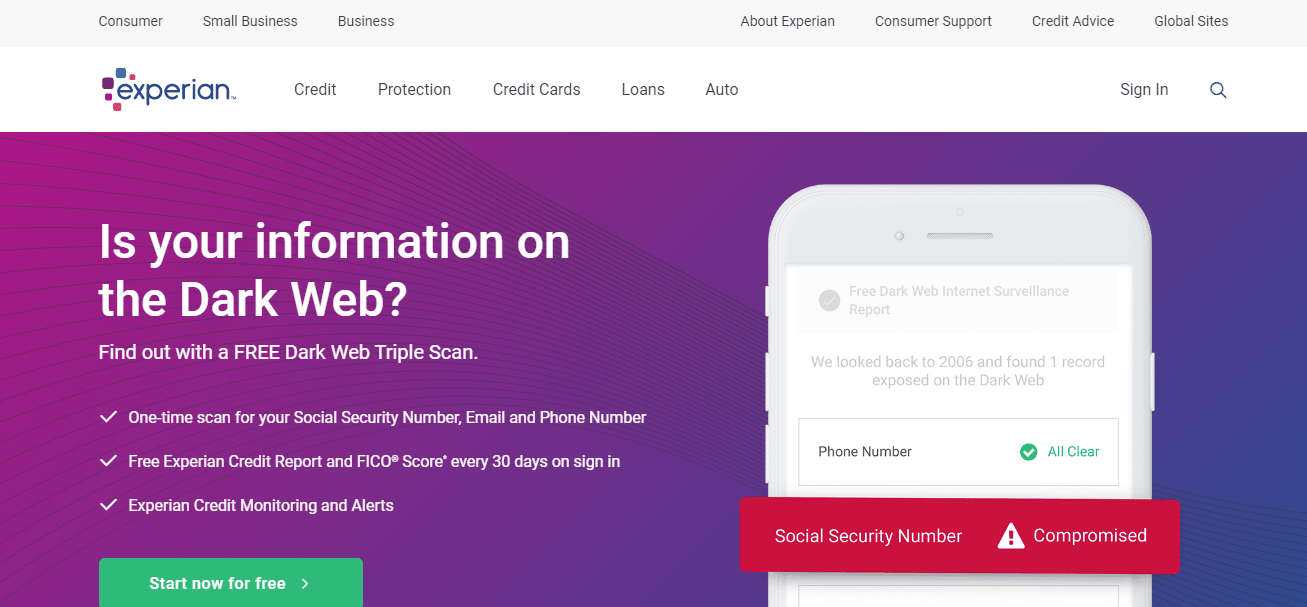 Overview
Experian offers both free and paid services. The free version requires you to use a few features separately, including the Credit Score, Credit Report, and Dark Web Scan. The Dark Web Triple Scan is especially important for credit monitoring, but you can only do this once for free. Because Experian is one of the three major credit bureaus, you can trust that the information is highly accurate.
Highlights
Get a free one-time Dark Web Triple Scan. This scans millions of data points and thousands of sites for your phone number, email address, and social security number.
Get a free copy of your FICO credit score and credit report. Get updated information every 30 days.
Get real-time alerts about accounts in your name and credit inquiries.
Correct inaccuracies and file disputes for free via your Experian account.
Use an interactive FICO Score tracker.
Use Experian Boost to improve your score for free by reporting eligible streaming service, utility, and phone bills.
Pricing
There are several free services from Experian that you can combine, including the Dark Web Scan, Credit Report, and Credit Score. Conveniently, if you decide you need more frequent updates or monitoring, Experian offers the ability to upgrade to several paid plans, which are separately listed among our top picks.
Bottom Line
The free services from Experian are appealing if you want credit monitoring that comes directly from one of the major credit bureaus. Just remember that it will be limited to your FICO score and report, not your Vantage Score from TransUnion. The ability to upgrade to a paid service with the same account is also convenient.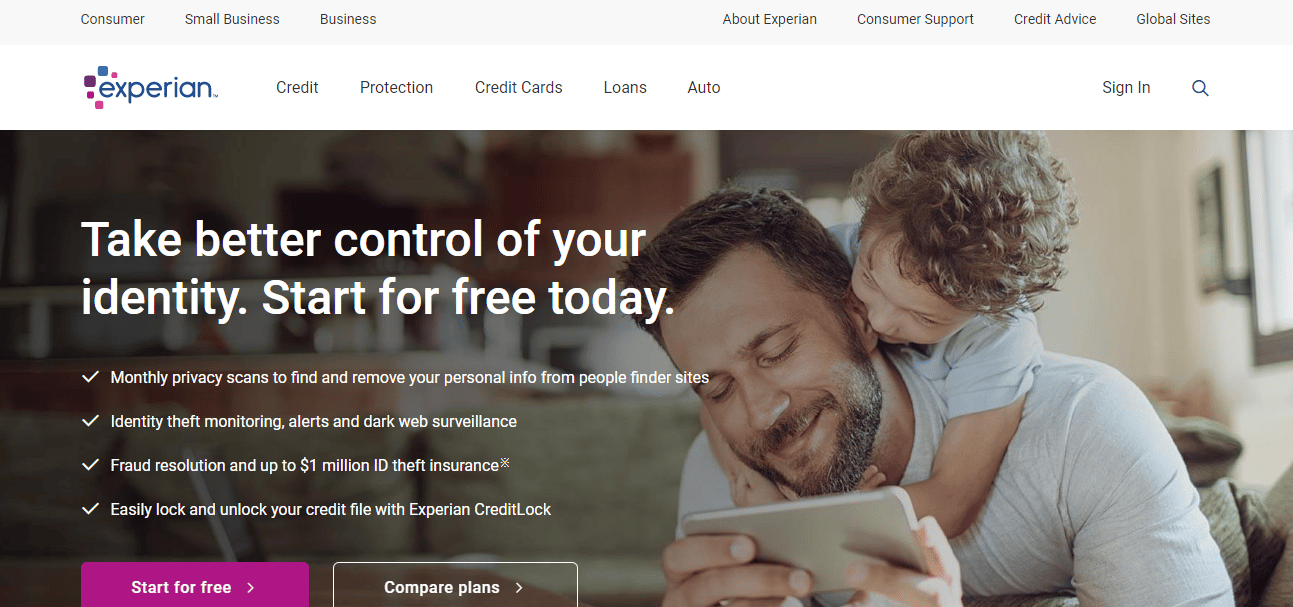 Overview
Experian IdentityWorks is the paid credit monitoring service from Experian. It gives you all the free features mentioned above, but you get identity theft monitoring and information from all three bureaus. If you are serious about protecting your identity and credit score online, this version of Experian is the one for you.
Highlights
Get all the features of the free Basic plan, including the FICO Score monitoring, FICO Score tracker, a credit report, your FICO Score, and alerts.
Enjoy peace of mind from advanced identity theft monitoring.
Monitor and receive alerts from credit changes across all three credit bureaus, not just Experian.
Receive 3-bureau credit reports and FICO Scores updated every quarter.
Experian CreditLock makes it easy to lock or unlock your credit file.
Receive alerts for financial account takeovers, dark web internet surveillance, SSN traces, changes of address, non-credit loans, court records, social networks, and more.
Privacy scans are completed every month, including removing your personal information from people finder websites.
Get dedicated fraud resolution support and $1 million of identity theft insurance coverage ($500,000 on the Plus plan).
Enjoy lost wallet assistance.
The Family Plan adds the premium features for an additional adult.
The Family Plan monitors the identity of up to 10 children.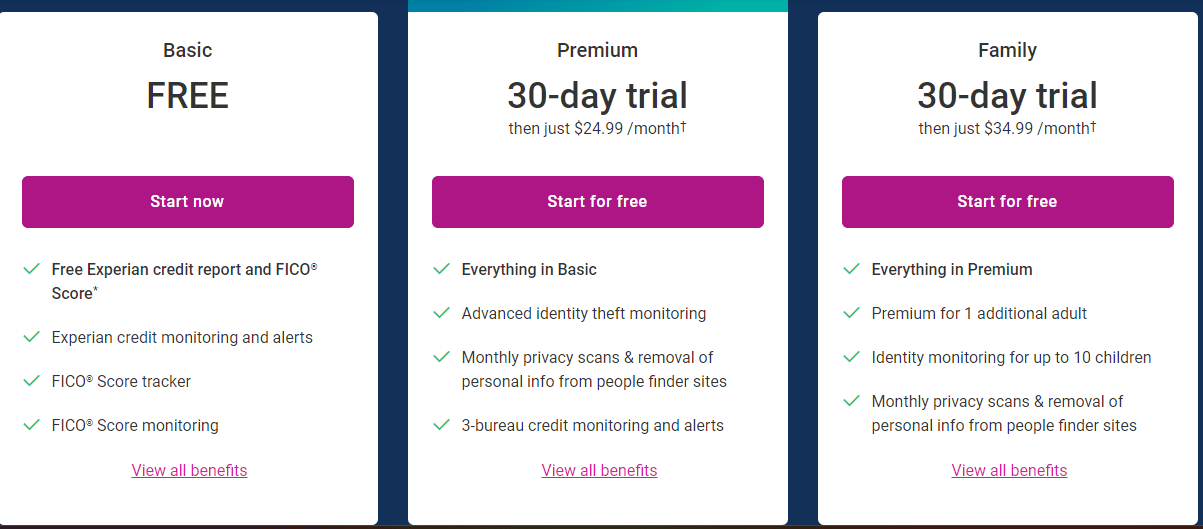 Pricing
The Premium Plan comes with a free 30-day trial. After that, you pay $24.99 a month. The Family plan also has a free trial, followed by $34.99 a month. You will need to enter your credit card information to start the free trial.
Bottom Line
Experian IdentityWorks is an excellent choice for those who want a paid credit monitoring plan from one of the major credit bureaus. The family plan is especially appealing, making this the go-to option for nearly any family wanting to prevent fraud from affecting several family members. As a bonus, the 30-day free trial for the Premium Plan gives you enough time to confirm you like the service's features before paying.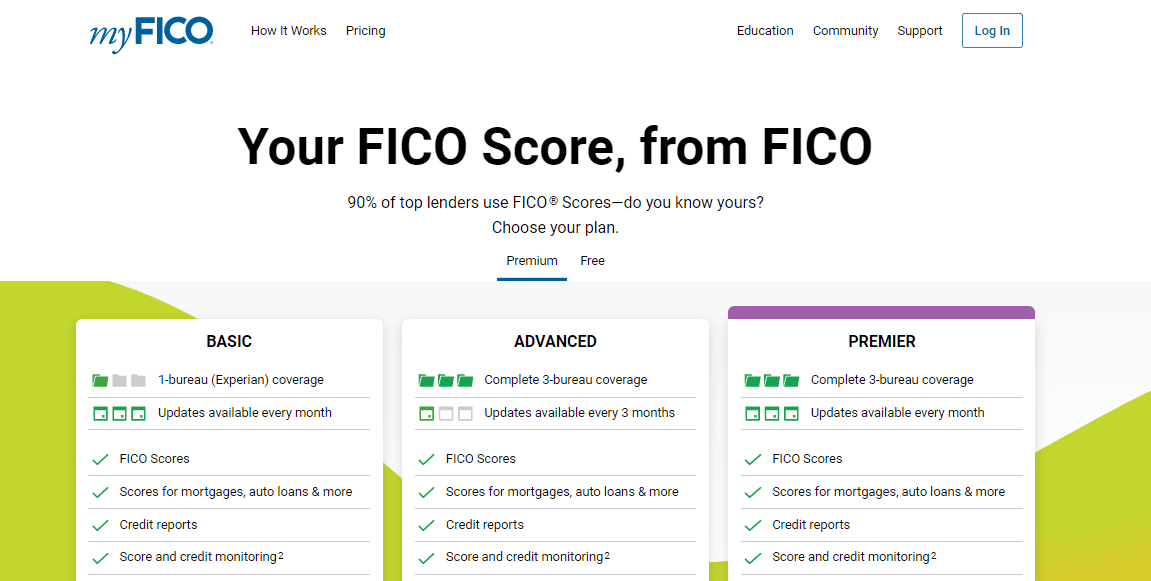 Overview
myFICO is another official option for credit monitoring, as it is connected directly to your FICO Score. This ensures that the information you get with a myFICO account is accurate and up-to-date. There are three plans to choose from, each including credit monitoring, identity restoration, and identity theft insurance. The differences are primarily in which bureaus are monitored and how frequently your reports and scores are updated.
Highlights
Access your FICO Scores and credit reports. This includes 28 FICO Score versions, including for mortgages, auto loans, and credit cards.
Get credit monitoring and FICO Score monitoring, complete with alerts. View your credit score history.
Receive alerts about new inquiries, address changes, late payments, new accounts, and more.
Enjoy $1 million of identity theft insurance and 24/7 identity restoration.
Advanced and Premier Plans also include identity monitoring. It checks for your personal information on internet databases, including websites, chat rooms, and public records.
Get reports and monitoring from one bureau (Basic) or all three bureaus (Advanced and Premier).
Your credit information is updated monthly (Basic or Premier) or every three months (Advanced).
Advanced tools let you see how various financial decisions will affect your credit score, such as taking out a mortgage or paying down your credit card.
Access US-based toll-free support.
Rest easy knowing that myFICO uses 128-bit encryption.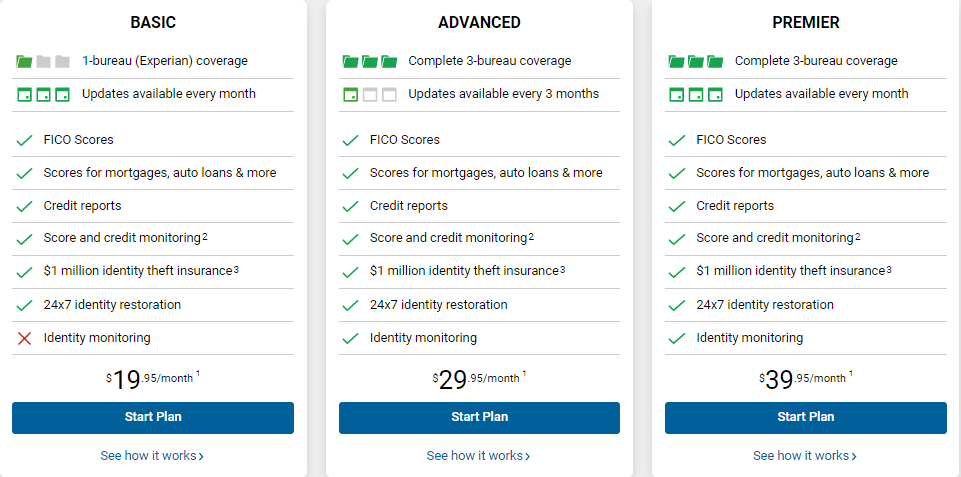 Pricing
You can choose from three plans for myFICO. The Basic Plan costs $19.95 a month. The Advanced Plan costs $29.95. The Premier Plan costs $39.95 a month.
Bottom Line
With three plans to choose from, myFICO offers options for all budgets and preferences. The information is highly accurate as it comes right from FICO, giving you additional confidence. This credit monitoring service also has multiple useful features to help you build your credit and track your credit history, making it even more appealing.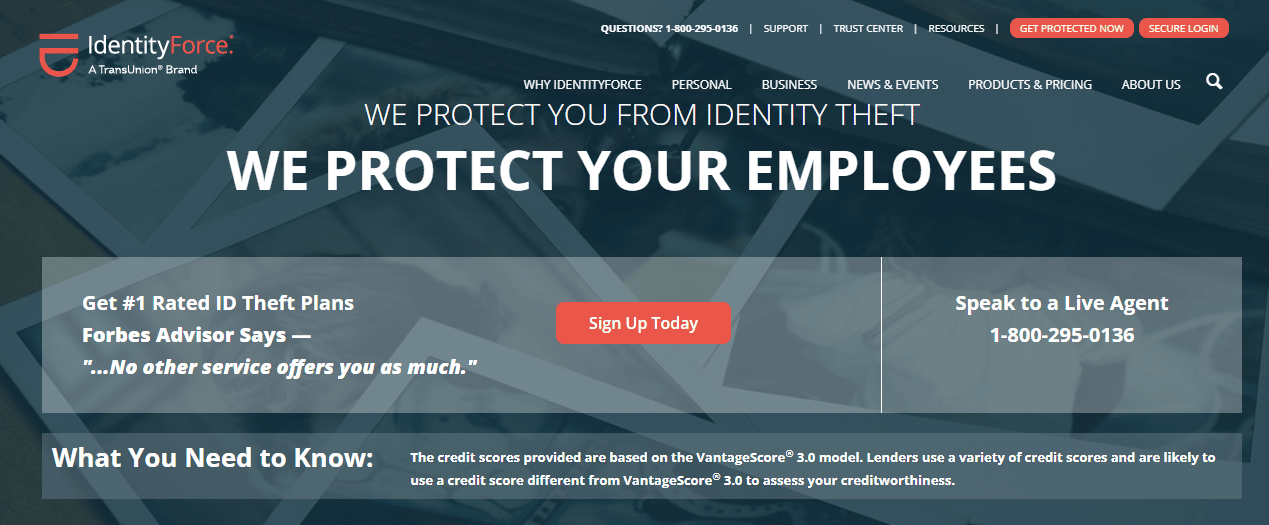 Overview
Identity Force is a TransUnion brand, so it is connected to one of the major credit bureaus. As such, any credit scores that the service provides are your VantageScore. You can choose from two plans from Identity Force. One monitors your identity online to prevent fraud, while the other also includes credit score monitoring.
Highlights
Get monitoring for advanced fraud, changes of address, dark web, mobile attacks, payday loans, social media identities, and more.
Get alerts for investment accounts, bank activity, credit card activity, identity theft, fraud, and more, along with a smart SSN tracker.
Social media monitoring confirms your accounts don't have inappropriate activity that could be considered discriminatory or profane.
Get $1 million of identity theft insurance coverage.
Enjoy stolen funds replacement, white-glove family restoration, and deceased family member fraud remediation.
UltraSecure+Credit adds credit monitoring across all three bureaus, including a credit score tracker.
Receive your credit score and reports from all three bureaus.
Access a credit score simulator to help you make financial decisions.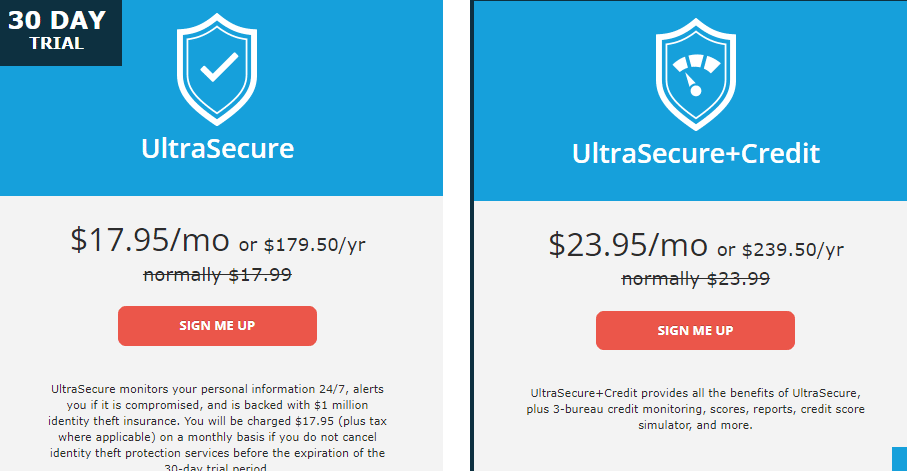 Pricing
You can choose from two plans from Identity Force: UltraSecure and Ultrasecure+Credit. UltraSecure provides you with the identity monitoring services but not credit monitoring. It costs $17.95 a month or $179.50 a year. UltraSecure+Credit adds credit monitoring and related services. It costs $23.95 a month or $239.50 a year.
Identity Force also encourages potential customers to call to ask about family plans.
Bottom Line
Identity Force appeals to those who prioritize thorough identity protection along with the various credit monitoring features. Between the variety of monitoring and restoration services, this is a good option for ensuring you can recover from identity theft. And the fact that it features credit information and monitoring from all three bureaus is a major bonus.
Overview
ID Watchdog comes from Equifax, making it another of the identity and credit monitoring services that come directly from one of the major credit bureaus. The service monitors for potential fraud on billions of data points. It includes monitoring of public records, high-risk transactions, the dark web, and credit reports, among other things.
Highlights
Depending on your plan, get credit report monitoring with alerts from one or all three credit bureaus.
Dark web monitoring checks for your financial and personal information in chat rooms, websites, and other forums.
It can also check for your driver's license, bank accounts, and credit cards on the dark web.
Receive notifications if a financial institution conducts a high-risk validation in your name. Also, receive alerts for subprime, rent-to-own, payday, and other subprime loans.
Checks billions of databases and public records for new addresses or names linked to your identity.
Monitors for address changes registered with the US Postal Service.
Child credit locks are available with a Premium plan, protecting your child's financial future. You can also set up child credit monitoring.
Get support from 24/7 customer care, complete with dedicated resolution specialists.
Get $1 million of identity theft insurance coverage.
Enjoy lost wallet assistance and a lost wallet vault.

Pricing
You can choose from the ID Watchdog Select or Premium plans. The Select Plan is $14.95 a month for individuals, while the Premium Plan is $21.95 a month. Paying annually drops the price per month slightly, with an overall price of $150 and $220 a year, respectively.
Family plans are also available. For Select Plans, the +Family plan is $23.95 a month or $240 a year. For Premium Plans, the +Family plan is $34.95 a month or $350 a year.
It's worth noting that you can cancel any plan anytime but never get a partial month's refund. Annual plans will, however, give you refunds on fully unused months.
Bottom Line
ID Watchdog has a strong reputation because it is from Equifax, one of the major credit bureaus. This also helps ensure the accuracy of its information. The various types of monitoring you can get with ID Watchdog make it stand out from the crowd. The family plans are also a somewhat unique feature that few other services on our list offer.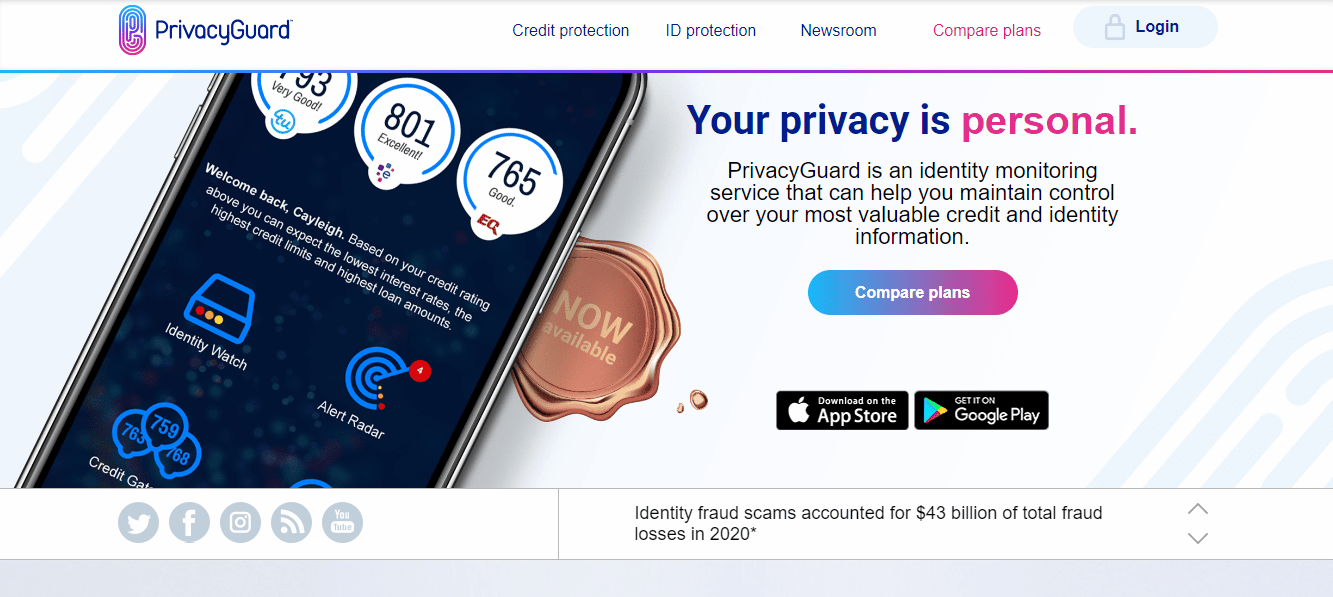 Overview
Privacy Guard is primarily an identity monitoring service designed to help you detect and prevent identity fraud, but it also offers credit monitoring. You can enjoy monthly triple-bureau reports and 24/7 triple-bureau credit monitoring, all in addition to identity protection via dark web scanning and public website scanning.
Highlights
Get triple-bureau credit scores and reports every single month.
Receive 24/7 credit monitoring that pays attention to all three bureaus, notifying you about important changes.
Privacy Guard searches for your private information on the dark web, including your SSN, passport, driver's license, bank accounts, date of birth, credit cards, and more.
Set up monitoring for your children's social security numbers.
Receive a monthly status update on your monitoring services by email and text, as well as text and email alerts when necessary.
Get peace of mind from online fraud assistance, lost and stolen wallet protection, $1 million of ID theft insurance coverage, emergency travel assistance, and more.
Use the credit card simulator to manage money wisely and get information via the credit information hotline.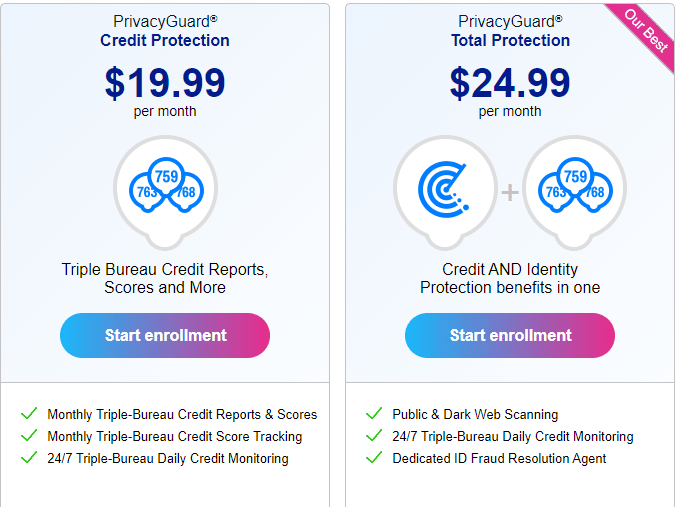 Pricing
Privacy Guard offers three plans, one for Identity Protection, one for Credit Protection, and one for Total Protection. These plans cost $9.99, $19.99, and $24.99 a month, respectively.
These prices take effect after an initial price of $1 for the first 14 days. In the absence of a free trial, Privacy Guard offers this as an alternative.
Bottom Line
Privacy Guard lets you choose whether you simply want to monitor your credit or identity or if you want to monitor both. It has competitive pricing and keeps you updated with reporting and monitoring from all three bureaus. You also get peace of mind from the identity theft insurance. While there isn't a free trial, the first 14 days cost only $1, making it well worth trying Privacy Guard.
What Is A Credit Monitoring Service?
Credit monitoring services track your credit score and reports for unusual activity. They alert you if something occurs that may indicate identity theft, such as new hard inquiries or other major changes to your score. Most also offer identity monitoring services, such as scanning the dark web for your information. Many available paid plans even include identity theft insurance.
Conclusion
Using one of the top credit monitoring services is a smart way to protect yourself financially. These services will help you spot fraud quickly so you can take action immediately. Most paid services even offer support and insurance to help you correct fraud or other errors in your credit reports. At the same time, the best services enable you to track your credit score with regular reports and, as a bonus, provide you with helpful tools to plan your finances.